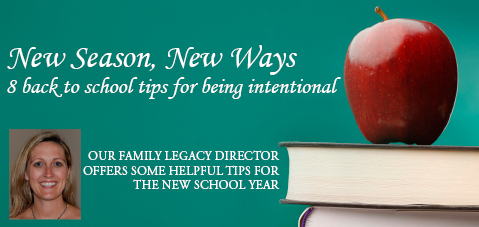 SET ASIDE TIME TO PLAN YOUR WEEK (MEALS, SCHEDULE, ETC.)
Back to school season is hectic. In order to prevent your family from unraveling, consider placing a family calendar where everyone can see it and include activities, assignments, and meal plans for the week or month.
TURN ON YOUR VOICE RECORDER
Use your voice memo phone app to record everyday conversations with your children. Push the record button while they are eating their after-school snack, while driving to sports practice, or during your bedtime routine. (The conversation flows better and is more genuine if they don't realize you are recording. Be a ninja!) If your phone is regularly backed up those recordings will be safely secured on your computer or hard drive for years to come! Record yourself from time to time too – this is part of your legacy that everyone will appreciate.
UTILIZE YOUR PHONE CAMERA
Have you thought about using your phone camera for more than capturing pretty smiles? Take a photo of your child's bus schedule, daily classroom schedule, or any other important handout that you might need to reference throughout the school year. Place all those photos in a folder on your phone for easy reference all year long. If the document came in the form of an email and you don't want it to get lost in your inbox, you can screen shot it and add it to your phone picture folder. No need to worry about losing papers or emails, it's all in one place on your phone! You can do the same for all of the precious artwork your children bring home from school. No need to keep it and clutter your drawers.
MAKE CAR TIME COUNT
For most families, back to school means more time in the car. Consider being intentional with that time by having flash cards handy for your child learning sight words, math facts or vocabulary, a Bible verse for the week that your family can memorize and discuss while driving, or a song playlist that is meaningful or educational.  
DINNER TIME HIGHS AND LOWS
Sometimes dinner is the only time every family member is in one place. An intentional question posed to the entire family can create a meaningful conversation. Avoid questions with one word answers. Instead ask, "What was the best part of your day (high)?" and "What was the worst part of your day (low)?" In our family it is called "highs and lows." (Don't forget to hit 'record' on your voice memo app from time to time.)
MAKE GIFTS MATTER
Create a gift closet and stock up on some gifts that can be used for birthday parties, teacher appreciation, or a sick neighbor. This allows you to be more thoughtful about the gift and not left scrambling at the last minute. It is especially meaningful to purchase gifts that will really make a difference. Websites like Sevenly and Adopt Shoppe are just two of many sites where your shopping supports greater causes.
DON'T FORGET YOURSELF
During the fast pace of life, it is easy to quickly roll from one day to the next. Be intentional with your time today. Carve out some space for quiet time and rest. Put it on your schedule and stick to it, like you would a doctor's appointment or meeting. Set a reminder on your phone or computer so the time doesn't slip away.
LOOK UP AND OUT
Once you are refueled, consider how you might help others around you. There are many people who are struggling and hurting, and sometimes we don't see them because we are so caught up in activity. Do you know a struggling parent? Encourage them with a note, a meal, a visit, or some help. Do you have a widow in your neighborhood who might feel lonely? Make her some cookies, send her a card, or invite her to go for a walk. Invite a family to your home for dinner. Let your kids help choose who will be invited next. This intentional hospitality will bless all involved.
Jill Thompson didn't give much thought to intentional living until her best friend, Kristen Milligan, was diagnosed with terminal liver cancer at age 30. She had a front row seat as Kristen planned and prepared for her death and was inspired to be as intentional with each day. Kristen rarely missed a single moment to speak truth to her children and to teach, inspire, and encourage others. Because of her intentionality, her life and legacy are still greatly impacting others even 3 years after her death. Jill currently lives in Florida with her husband and 4 children and tries to make the most of each and every day, living intentionally as a wife and mom – we're honored she's part of the IoH family!