Meet Aaron Hedges, Inheritance of Hope's Technology and Talent Director. He excels in both matters of the head and the heart while serving our IoH family, a role that brings him true joy. We are fortunate to enjoy his leadership on staff. Our CEO says he can truly figure anything out.
Originally from Tennessee, Aaron now lives in Minnesota with his wife and two adorable children. What was he doing before raising Estella and Theodore? He graduated from Carson-Newman College with a degree in math and Spanish. He later completed his Master of Divinity and Master of Business Administration degrees from Mercer University. He's one of the sharpest people you will ever meet!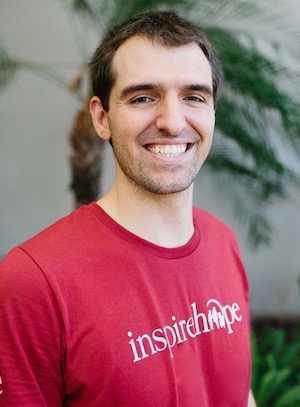 Aaron Hedges, Inheritance of Hope
Technology and Talent Director
We sat down with Aaron to ask him these 20 questions so that you can get to know him better.
1.  What is something you've never tried but want to? 
Ice fishing.
2.  What's one thing you couldn't live without?
Water. Probably a sense of purpose also, but definitely water.
3.  What is the one thing you cannot resist?
Chick-fil-A peach milkshake. Why are these not available half the year?!
4.  What is your greatest fear? 
Missing what's best because of what's distracting.
5.  What's your most unique contribution to Inheritance of Hope?
Hand modeling.
6.  Where is the best place you've traveled to and why?
The Bolivian Andes – such beautiful people and spectacularly rugged terrain.
7.  What's your favorite board game?
Carcassonne.
8.  What are your three most overused words/phrases?
Be calm, don't grab, be gentle. (I have a very active two-year-old!)
9.  What is your favorite thing to do?
Take a Sunday afternoon nap.
10.  What is the best book you have ever read?
Hmm, hard to choose. I'll geek out and say Theology and the Philosophy of Science by Wolfhart Pannenberg.
11.  Where is your favorite place to be?
Around a fire with my family.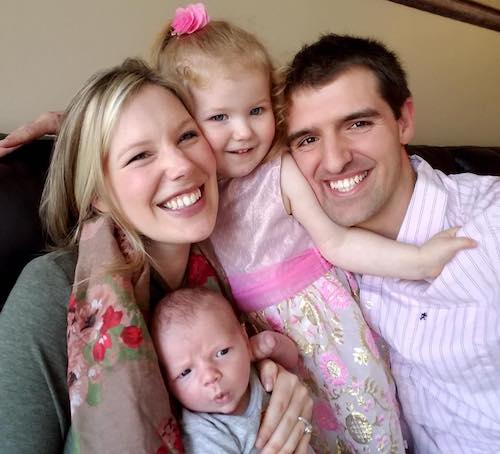 Aaron with his beautiful family, wife Allison,
baby Theodore Alvin, and toddler Estella Mae.
12.  What's the weirdest job you've ever had?
Burning legal files. (Don't worry – they were outdated.)
13.  You feel most alive when…
I am discovering something or helping others discover something.  I love those "light bulb moments"!
14.  What do you think sets Inheritance of Hope apart?  
I am convinced that the most important asset for every organization is its people, and Inheritance of Hope is blessed with tremendously gifted and dedicated people.
15.  What would you do (for a career) if you weren't doing this?
I'd teach.
16.  If you could do another job for just one day, what would it be?
I'd be Eric Miller for a day.
17.  When you eat Thanksgiving dinner, you always…
Wish I had a bigger plate! 
18.  What are three things you wouldn't miss if you were stranded on an island?
Schedules, noise, bills.
19.  Tell us something that might surprise us about you.
I enjoy writing limericks.
20.  What is your personal philosophy?
Love the Lord your God with all your heart, all your soul, all your mind, and all your strength, and love your neighbor as yourself.

Have other questions for Aaron? Ask them in the comments below, and he'll reply!