Chris Douglas wants to talk about silver linings. He can share a list of them with ease if you mention his upcoming half marathon at Soldiers Field in Rochester, Minnesota. Chris is competing in the Nut House Challenge by Triton Events next weekend with the Inheritance of Hope (IoH) team in a unique way.
Chris was diagnosed in December 2015 with ALS, which is a motor neuron disease that causes a miscommunication from the brain to the muscle and causes the muscles to die. He has been unable to walk for the past six months and is now wheelchair bound. At IoH's Legacy Retreat® in May, Chris met volunteer Blake Austin. Blake says the two became instantaneous friends and bonded over the experiences they have had with ALS.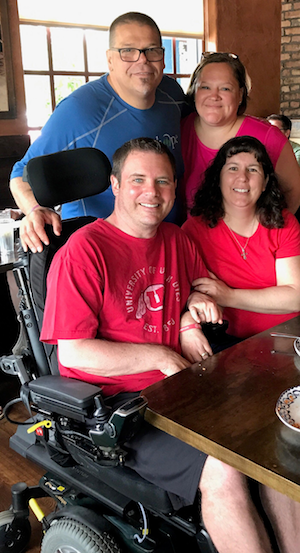 Peggy and Chris Douglas with Dena and Blake
Austin at the May 2017 Orlando Legacy Retreat® 
Blake says that Chris "has a zeal for life and is the kind of guy you want to be around." The two have been preparing to tackle the Totally Nuts Challenge together, which includes a 5k, a 10k, and a Half Marathon on July 15 and 16. Blake plans to push Chris the entire distance.
"I will make sure I know the directions to the starting line, and I've been carb loading too," Chris said jokingly about his race preparation.
Chris and his wife Peggy grew up in Minnesota and now live in Pine Island near Rochester with their four children. Chris continues to work from home as an engineer for the Sierra Nevada Corporation. He was an avid athlete and looks forward to competing again while also supporting IoH's mission.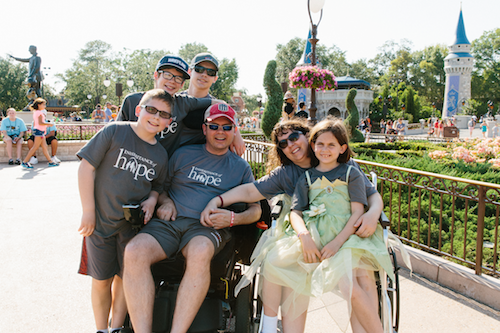 Chris and Peggy Douglas with their children
Isaiah (17), Micah (14), Luke (11), and Elli (8) in May.
"I fully understand the value of what Inheritance of Hope does for people and the Christian values it is built upon. For me personally, I am all in on what they do. When something like this pops up where we can raise awareness for IoH and touch so many other lives with the gospel of Christ, I can't say no to something like that."
Chris is "gung ho" about this event, as Blake would say. He says there are many silver linings about this story, and in Chris' own words these are his top three:
1. Blake understands ALS intimately. He lost a close friend to the disease last year, John Crawford. Blake will be traveling to Rochester this week with family friend and fellow IoH volunteer, Heather Crawford (John's wife). Chris hopes that Heather and Peggy, who also met at the retreat in May, can continue to support each other as wives and mothers impacted by ALS.
2. Chris believes that Blake's outgoing personality can help his extended family better understand and cope with these circumstances. He sees Blake as a great "sounding board" with valuable knowledge and experience to share.
3. Chris feels called to walk with Blake on his evolving spiritual journey and believes the Lord put this opportunity in his life to give him purpose.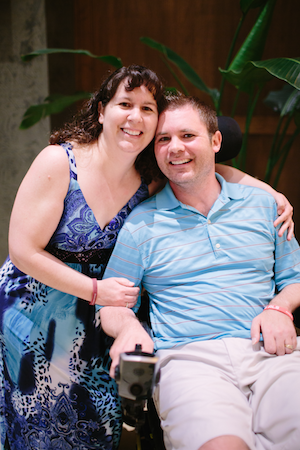 Peggy Douglas with Chris enjoying a date night together in May  
A close fourth silver lining is a pre-race BBQ that Chris is excited about. Many friends and family will be there to run and support the Douglas family. As Blake has said and Chris would agree, "I don't want to just finish it. I want us to finish it well."
If you would like to "go nuts" alongside Chris and Blake next weekend in Minnesota, you can register here. If you would like to support them as they run and help pay it forward to another family like the Douglases, you can give here. We'll be rooting for them!