Kathy Midkiff ran the Chicago marathon—her first—this past October in support of Inheritance of Hope (IoH). Her fundraising goal was to raise enough money to send an entire family on a Legacy Retreat®. Kathy's daughter-in-law, Kerri Midkiff, was diagnosed with metastatic breast cancer in 2009, and since then Kathy has seen firsthand the difficulties that IoH families face.
Kerri and her family, husband Brian (Kathy's son) and daughters Hailey and Riley, attended the Orlando Legacy Retreat® in May 2014.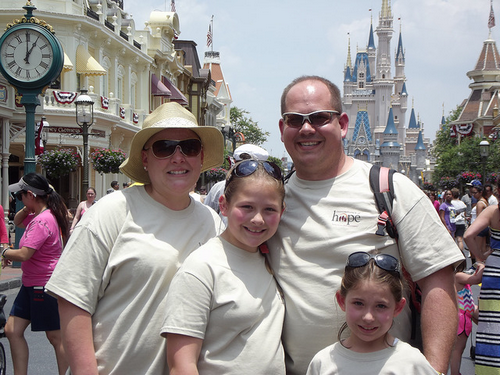 Midkiff Family at Their Legacy Retreat®

Kathy explains why the retreat was so important to her son, daughter-in-law, and granddaughters. "No matter how much you try to keep life normal, the focus is on the sick parent. But IoH focuses on the whole family." Hailey and Riley relished that attention while in Orlando. Both girls told their grandmother that they felt safe, special, and understood.
After seeing the impact the retreat had on Hailey and Riley, Kathy knew she wanted to support IoH, but wasn't sure exactly how.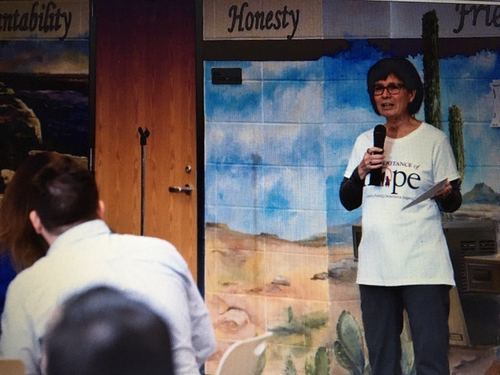 Ready to Inspire Hope!

Kathy had competed in shorter distance races previously, but describes herself as "not really a runner." While she had always wanted to run a marathon, finding the motivation was difficult, until one day she saw that IoH was a member of the Chicago Marathon Charity Program. At age 61, Kathy had found her motivation.  
In the months leading up to the marathon, training and fundraising became a family affair. Kathy's mother lent her skills to the fundraising effort in a unique way. An experienced quilter, she offered to sew a Christmas quilt that Kathy could raffle off to one of her supporters. For $10 pledged to IoH, donors' names were entered into a drawing. The excitement grew as race day approached, the quilt was completed, and pictures were posted to Facebook. Kathy raised a total of $5,228, even more than her goal!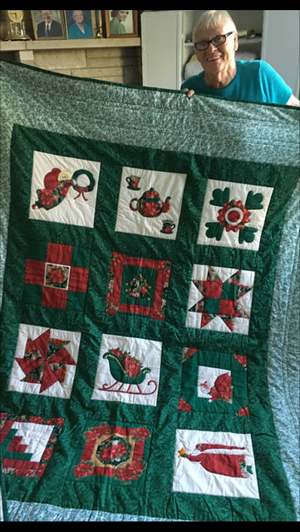 Multi-Generational Family Support

To train, Kathy enlisted the help of her grandson, who rode his bike alongside her on some of her longest runs. Even with the extra help, Kathy wondered after her longest 20-mile trial run, "Where are those six more miles going to come from?" On race day, however, she had more than enough excitement and motivation to carry her to the finish line.
"When you run for six hours, a million thoughts go through your head. I kept thinking about Kerri and other families like hers. They keep plugging along every day and just put one foot in front of the other. So that is what I did that day too."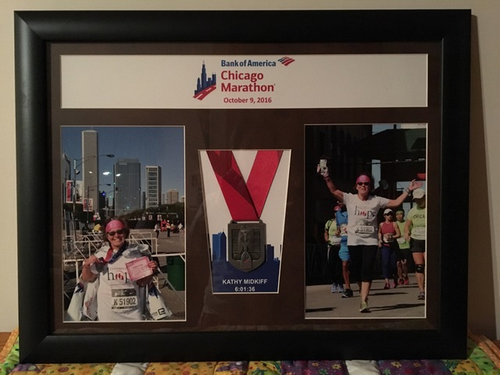 Motivated to Finish!

Along the way, she was inspired by different groups of spectators holding posters quoting Philippians 4:13—"I can do all things through Christ who strengthens me." She was also surprised and encouraged by personalized messages family members had sent that were broadcast on an electronic billboard at mile 16.
Kathy beat her personal goal of finishing in under 6 hours, and she hopes to eventually run the IoH Nut House Challenge. In the meantime, all the Midkiffs focus on living intentionally each day.
Angie Howell is constantly inspired by the people she meets in the Inheritance of Hope family. She has volunteered with us since 2012 and became a Legacy Retreat® Coordinator in 2015. She got involved after reconnecting with her college classmate, IoH Co-Founder Kristen Milligan. Angie lives in Atlanta with her husband, Clay, and two daughters.