The Black family attended an Inheritance of Hope Legacy Retreat® in August 2014. Haleigh Black, now age 18, and her father, Reggie, returned as volunteers to serve at the most recent retreat in May this year. They were part of the largest group of served family members returning to volunteer, as 17 individuals from Legacy Retreat® families served.
Haleigh's mother and Reggie's wife, Laura Black, passed away in April 2016. Haleigh returned to serve as a volunteer almost a year later and believes volunteering is helping her through the grieving process. She relates well to the little children in particular and finds reward in serving the "people in situations that need help just like I needed help."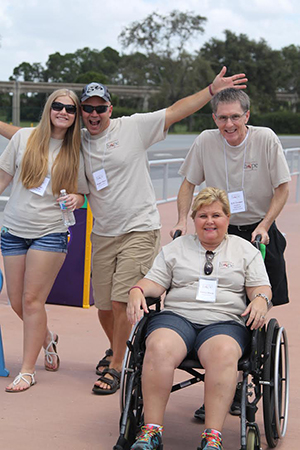 The Black family at the Orlando LegacyRetreat® in August 2014
"There is comfort in knowing that there are other people out there who understand what you're going through and how you are feeling," Haleigh said. She volunteered alongside others in the IoH community, with whom she built relationships. She enjoys the camaraderie and understanding among her peers.
"My roommates and I have talked quite a few times, because all of our moms are or were sick, about how we felt, how other people acted, things we regret, things we did," she said, adding how much she values these friendships.
Haleigh wants to study pharmacy at the University of Illinois at Urbana-Champaign, where she starts her studies in the fall. She enjoys creative arts and acting, loves music, and has played the piano since she was seven years old. She just returned from a post-graduation summer trip to Europe that her grandfather took her on to celebrate her 18th birthday and high school graduation.
The Black family lives in Chatham, IL, where Haleigh has a sister with cerebral palsy. Even with daily considerations for her care, they have raised impressive funds in their community in addition to personally serving IoH. More than $8,000 was given at Laura's memorial service, which was attended by over 500 people.
"There is support for specific diseases in our community, but there's not much for families dealing with a terminally ill parent," Reggie said of the importance of IoH's mission.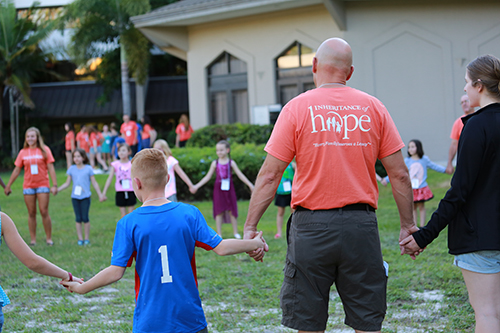 Reggie Black playing children's games in May 2017
Reggie explained that he can tell by looking at someone if they have the same disease his wife had, glioblastoma, which is a fast-growing type of brain tumor. Being a support to these people is how Reggie gets the most out of his volunteer experience. After all, connecting with a previous retreat attendee that suffers from glioblastoma is how the Black family was introduced to IoH originally. 
During IoH retreats, one morning former family members who have lost a loved one speak to our new parents. Reggie and Haleigh were chosen to share their story in May and gave the gift of encouragement and community as parents in the audience were inspired by their words. The Blacks hope to return as volunteers in the future, and we look forward to having them!