"I wouldn't have wanted to be anywhere else for my birthday," said Katelyn Hodge of turning 18 while serving on the most recent Kendra Scott-sponsored Inheritance of Hope Legacy RetreatⓇ to Orlando.  The feeling was mutual–and we hope to celebrate 19 with her as well!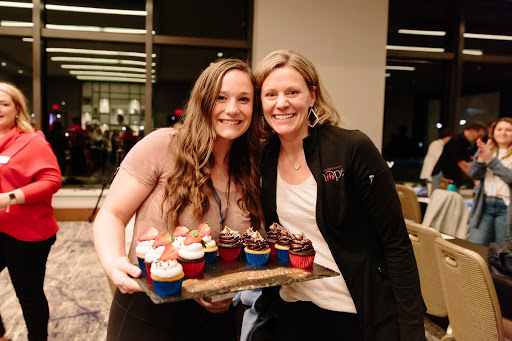 Events Director, Betsy Ogren, surprises Katelyn on her 18th birthday
The high school senior from Windsor, Colorado, attended the exact same retreat a year earlier, and her whole family gained valuable skills for coping with mom Melinda's metastatic breast cancer diagnosis.  "The retreat made us closer and helped us be able to talk about things that had been hard to bring up at home," shared Katelyn of their experience. She also knows that the friendships she made are lifelong, "I saw that there were kids my age who were going through the same thing. Sometimes you feel so alone.  People will say they understand, but they really don't. But on the retreat, they did. In the teen room, through our stories, I immediately felt like 'Wow–they know what I'm talking about.' IoH didn't ignore what was happening, but recognized what was hard and we talked through it."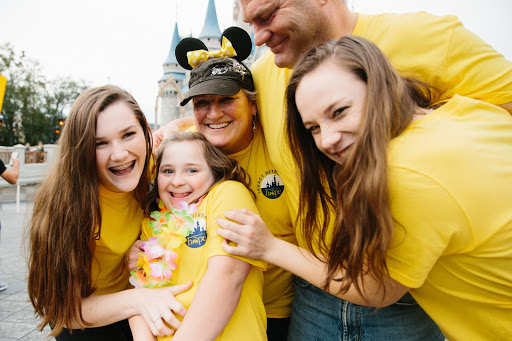 Making priceless family memories at Disney
And what happened to those friends she made when they all had to go back home after just a few days in Orlando? Well, she is in touch with many of them every day through text, Snapchat or Instagram.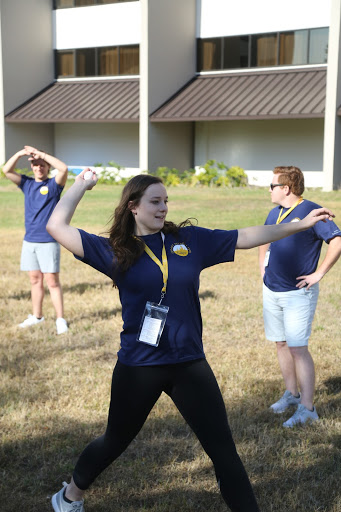 Katelyn enjoying the group session activities
Favorite moments while on their family's retreat included throwing eggs as a therapeutic release to symbolize what they were "sick" of and scoring some Kendra Scott swag.  Katelyn admits to just a little "fangirling" when she met Kendra herself!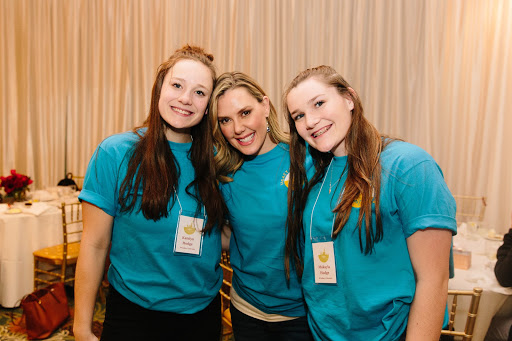 Katelyn (left) with her sister, Makayla, and Kendra Scott at the 2018 retreat
As a volunteer on the 2019 retreat, Katelyn proudly claims the family she was paired with were the best dancers on the trip (don't worry any of you new families out there–dancing is not a requirement!), outgoing, and welcomed her into their family right away.  She stressed that joy through hope is a huge part of each IoH retreat, "We can't control what is going on, but for these three days, this is what we can do. I also want people my age to know that others are going through this. It's terrible, but you don't have to feel alone.  I want to give them that kind of security."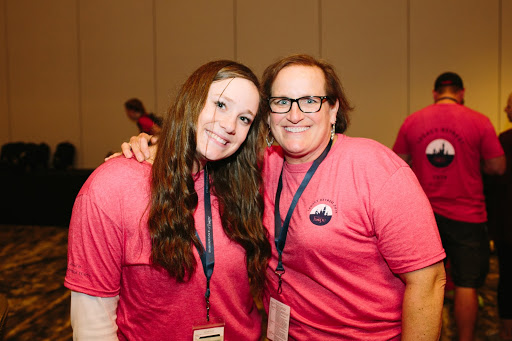 Katelyn with mom, Melinda, at this year's Kendra Scott-sponsored IoH Legacy RetreatⓇ
Besides the family she served, and IoH staff and volunteers she was happy to reconnect with, there was one other special person with her in Orlando singing "Happy Birthday."  Katelyn's mom Melinda also volunteered on this retreat, and according to Katelyn, "She pushed a wheelchair and everything, No one would have known she was diagnosed with metastatic breast cancer.  That was so exciting for me."
Katelyn (right) having fun volunteering with another family at Disney
Currently working at a BBQ restaurant and trying to decide between colleges, Katelyn thinks that one day she might be a clinical psychologist or work with special needs children.  One thing she knows for certain is that she will be back to serve at an IoH Legacy Retreat as soon as she can and will be part of the IoH family forever.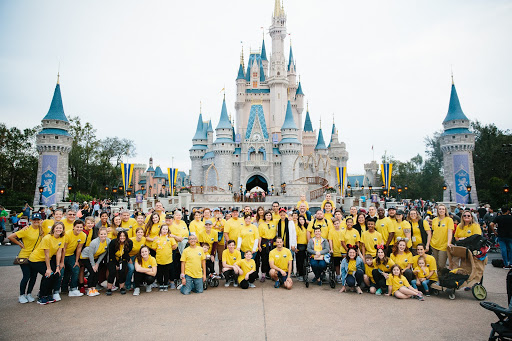 Orlando Legacy RetreatⓇ presented by Kendra Scott, January 2018
Angie Howell is constantly inspired by the people she meets in the Inheritance of Hope family.  Her connection to IoH goes back to Davidson College, where she met Kristen Grady Milligan the first week of their freshman year. Kristen eventually started Inheritance of Hope with her husband Deric, and Angie heard about their work at a college reunion.  In 2010, the two former hallmates got back in touch, and Angie became involved in IoH shortly afterwards. She has served as a Legacy Retreat volunteer, Coordinator, and now, as Communications Manager, Angie helps tell the stories of IoH. Read more Inheritance of Hope blogposts >>