The families Isaiah Douglas has volunteered for consider him a hero, but the soft-spoken college freshman shrugs off their praise with a "that's what I'm here for" attitude.  Known as patient, kind, and wise beyond his 18 years, Isaiah has a knack for connecting with the most nervous and shy of teens coming to Inheritance of Hope Legacy RetreatsⓇ.
Isaiah and his family were served on the May 2017 retreat to Orlando, and he describes the experience as impactful, especially because of the time they were able to spend together, "The retreat definitely brought us closer together as a family.  Everyone has busy lives, but that was time that was carefree." Isaiah's dad Chris has ALS, which has recently progressed, but according to Isaiah, the Douglas family gained valuable perspective on their retreat which has enabled them to look at every day as a new day to cherish, and avoid looking months ahead into the future.
The Douglas Family made lifelong memories on their Orlando Legacy RetreatⓇ in May 2017
As soon as he turned 18, Isaiah put in his application to volunteer for IoH, and from now on, says he plans "to go to every single retreat I can!" Currently attending Winona State University in Minnesota, Isaiah enjoys hunting and fishing in his spare time, but his major in Composite Materials Engineering keeps him busy.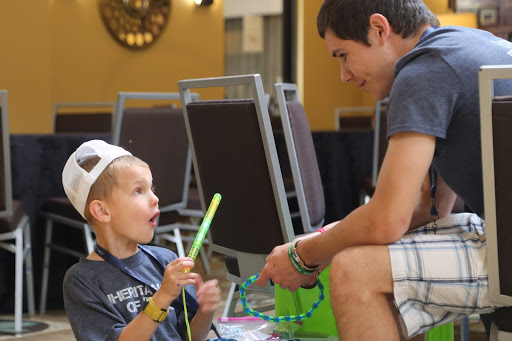 Serving others in Orlando
On a recent IoH retreat, Isaiah volunteered for the Becker family, and knew exactly how to best care for the young boys.  When asked how he approached volunteering, Isaiah's answer shows the intuition of a servant's heart, "I think God just presented me with an opportunity to share His love, and I wanted to make the boys feel comfortable, make them laugh, and let them know I really wanted to be there for them."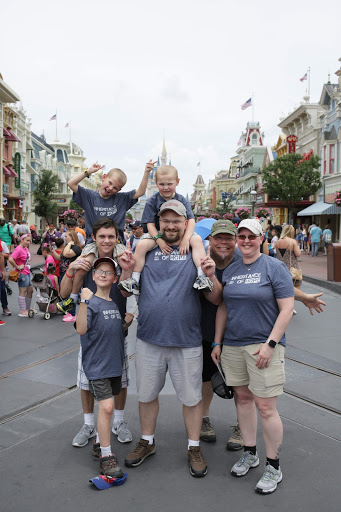 Isaiah (left) paying it forward to the Becker Family
Isaiah sees great value in giving the opportunity of a Legacy RetreatⓇ and sharing hope with other families, and most of all, wants other young people considering volunteering to know, "It is even better on the other side!  It's really awesome to be able to reciprocate the act of being served."
Angie Howell graduated from Davidson College, where she met Inheritance of Hope Co-Founder Kristen Grady Milligan the first week of their freshman year. In 2010, the two former hallmates got back in touch, and Angie became involved in IoH shortly afterwards. Angie has served as a Legacy Retreat volunteer, Coordinator, and now, as Communications Manager, Angie helps tell the stories of IoH. She is constantly inspired by the people she meets in the IoH family. Read more Inheritance of Hope blogposts >>