While most people were eating leftovers or searching for Black Friday deals, on the day after Thanksgiving in 2016, Tracy Higley was diagnosed with de novo stage IV metastatic breast cancer.  This was her first incidence of cancer, thus the label "de novo," a less common variant of the disease.
"Overwhelmed" would be an understatement in describing how she and her family felt.  "We were reeling," Tracy said. Approached a few months later by a breast cancer survivor at a basketball game, Tracy learned about Inheritance of Hope and considered applying.  She remembers feeling hesitant, "I didn't feel like I needed it, and didn't want to take another's spot. I also didn't want to put my kids through this sad thing. But, then I talked to Betsy at IoH, and even without meeting her, I felt so comfortable. I knew this organization really cared about our family."  Tracy, her husband Troy, and their blended family of three children attended the Kendra Scott-sponsored Inheritance of Hope Legacy RetreatⓇ to Orlando in January 2018. 
 Tracy shares a laugh with her family on their Kendra Scott-sponsored IoH Legacy RetreatⓇ
By the time the retreat rolled around, the second-grade teacher from Minnesota had endured six hard months of intense chemotherapy and the cancer was undetectable.  Thankfully, that has remained the case, and Tracy hopes that her daily chemo pill will continue to keep the cancer at bay.
Making lasting memories at Magic Kingdom
For Tracy, it is hard to put into words everything that the retreat meant to their family–togetherness, deeper connections, and the impetus to live more intentionally.  These days, while in carpool waiting for a cheer practice to end, she may record a video for her daughter Dana or jot down a note for the family to read later. "I never would have done that before, because it is hard to think about.  Nobody wants to do these things–you want to say these things to your family in person, but everyone should be doing it. My husband has become intentional about his legacy now too."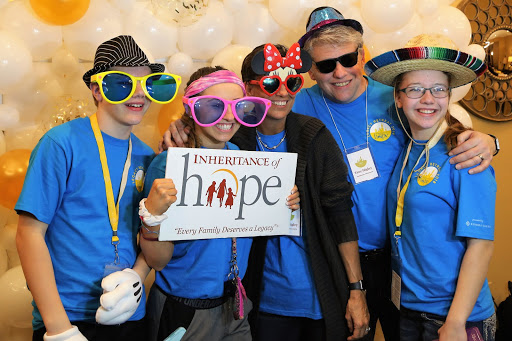 There is no shortage of smiles at Legacy Retreats!
This February, Tracy will be on the other side of the retreat experience as a volunteer.  As she prepares to serve on the upcoming Kendra Scott-sponsored IoH Legacy RetreatⓇ to Orlando, Tracy is eager to see the transformation of new families relaxing and feeling comfortable. While she knows just how scared each retreat participant will be, she also wants them to feel hope and love.  "Hopefully, people can see that a healthy life is possible, and I want to give back. I can't think of an organization that is more deserving than IoH. You can feel God's love there, and I did feel like we were part of a big extended family. I'm not as comfortable being the focus of attention, but am excited to be a part of the other end, and I will get all the love as a volunteer too!"
Angie Howell graduated from Davidson College, where she met Kristen Grady Milligan the first week of their freshman year. Kristen eventually started Inheritance of Hope with her husband Deric, and Angie heard about their work at a college reunion.  In 2010, the two former hallmates got back in touch, and Angie became involved in IoH shortly afterwards. She has served as a Legacy Retreat volunteer, Coordinator, and now, as Communications Manager, Angie helps tell the stories of IoH. She is constantly inspired by the people she meets in the IoH family. Read more Inheritance of Hope blogposts >>