In the fall of 2016, Melinda Hodge had a routine, normal mammogram.  Six months later, a lump was discovered at her yearly well visit, and she was subsequently diagnosed with metastatic breast cancer.  Scans showed that it had already spread to her brain and bones, and she was told she had 18 months or less to live. 18 months to do all the things she had planned and hoped to do, and 18 months to pour as much love as possible into her three daughters, ages 16, 14, and nine at the time.
Chemo, radiation, and then surgery followed, and just when Melinda felt like she had a grasp of her new reality, a routine scan showed that she also had thyroid cancer.  Years earlier, she had survived melanoma, the disease that took her own father at age 49. The thrice-diagnosed cancer patient, claims, however that "your faith deepens when you go through trials."  Melinda would certainly know. "I don't hear Him as loud as I want to sometimes, but I do see His hand in all the ways other people have blessed us."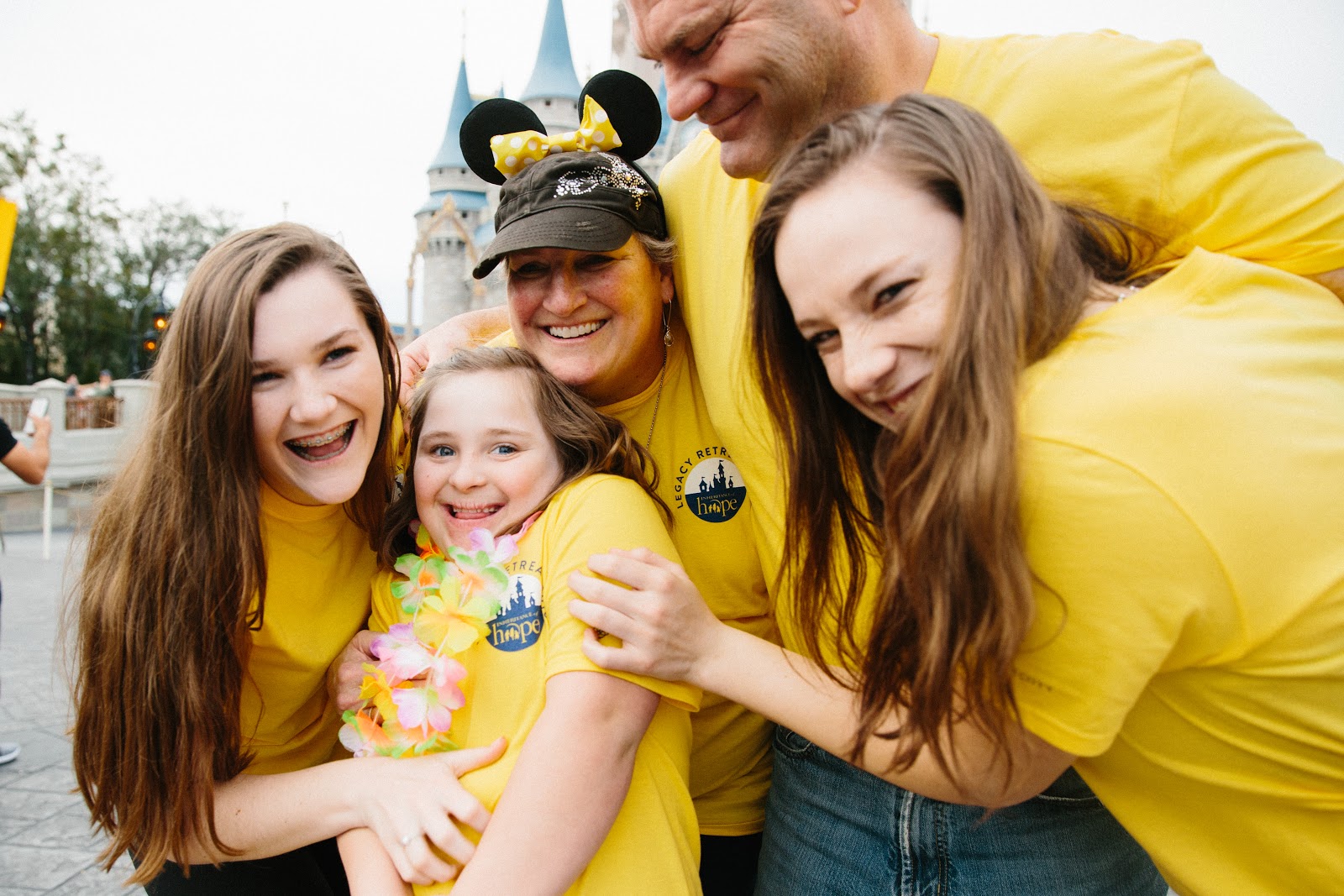 The Hodge Family making happy memories on their retreat
One of the blessings the Hodge family can point to is attending the Kendra Scott-sponsored Inheritance of Hope Legacy RetreatⓇ to Orlando in January 2018. On their retreat, they met others living parallel lives of raising children while fighting metastatic breast cancer, learned new ways of expressing feelings, and received concrete examples of how to leave a legacy.  "It helped us all to meet others going through the same situation, and it was especially inspirational to witness women who had survived this disease for so long. We came home with so much more hope, and with specific ideas of how to leave a legacy."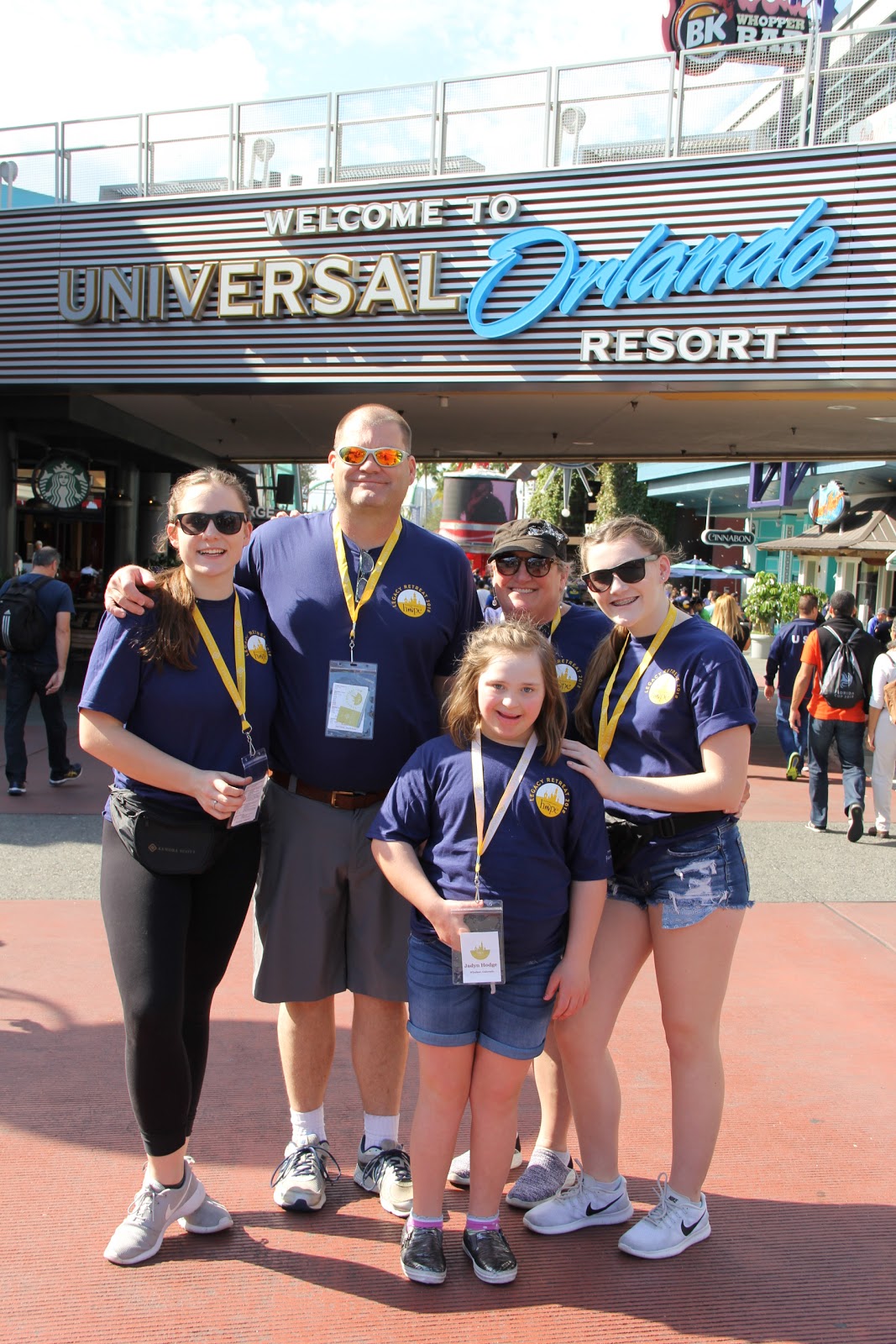 Ready for a big day in the parks!
Post-retreat, Melinda struggles with how to live in the moment while simultaneously trying to preserve the moment.  She works to carve out time to scrapbook and write in journals for each of her girls, when they are not travelling together, and noted that one comment from a father at their Legacy RetreatⓇ especially resonated with her.  "He said, that you are planning for two futures. That is true, and it was helpful to hear someone else admit that. It is a balancing act–living as if I will be here for awhile or not." One of Melinda's biggest goals is to build a village for their youngest daughter, who has Down syndrome, and help her become as independent as possible.  "I think this is common with all IoH families," she said, "The diagnosed parent is most worried about their family, and that is the hardest thing."
Family time means lots of smiles on an IoH retreat!
This special empathy she has for other diagnosed parents will be put to use in February when Melinda volunteers on the upcoming Kendra Scott-sponsored IoH Legacy RetreatⓇ to Orlando. "I am so excited to be able to give back, to serve other families and make the same difference we received.  And, I know I am going to be blessed too–I think you feel so much better when you give." As Melinda prepares to be one of our first two retreat volunteers diagnosed with metastatic breast cancer, she agrees that immediate connections will be made that could not be replicated in any other way.  "I think it's going to be huge," she commented. Besides the special bonds that will be forged and game-changing perspectives that will be shared, Melinda is also just excited to be with her new IoH family again, "There are so many friends I made last year that I can't wait to see!" The feeling is more than mutual!
The Hodge ladies scored some bling on their Kendra Scott-sponsored IoH retreat–more momentos to take home!
Angie Howell graduated from Davidson College, where she met Kristen Grady Milligan the first week of their freshman year. Kristen eventually started Inheritance of Hope with her husband Deric, and Angie heard about their work at a college reunion.  In 2010, the two former hallmates got back in touch, and Angie became involved in IoH shortly afterwards. She has served as a Legacy Retreat volunteer, Coordinator, and now, as Communications Manager, Angie helps tell the stories of IoH. She is constantly inspired by the people she meets in the IoH family. Read more Inheritance of Hope blogposts >>