Originally published in September 2020, Jen's story continues to inspire us.
When Jen Roett saw Kendra Scott's metastatic breast cancer necklace charm set on Instagram, "I was like, 'done!'" she raves, "And I bought it as soon as it came out."  One-year-old daughter Kennedy loved it as much as mom, and when she reached in to get a closer look, pulled the necklace right off Jen's neck.
Jen went to the Kendra Scott website to find out how she could get her brand-new jewelry repaired, stumbled upon the relationship between Kendra Scott and Inheritance of Hope, and she says, "I began hysterically sobbing, I was so moved."  The very next day, Jen signed up to volunteer on the February 2019 Legacy RetreatⓇ to Orlando, which was sponsored by Kendra Scott, for families affected by metastatic breast cancer.   
Just three months later, Jen boarded a plane to Orlando, and only then did she think through exactly what she had committed to, "Yeah," she remembers, "I started to think that I had been crazy to do this, but I was sitting next to a Catholic priest, and we began to talk."  In spite of the uncertainty of the unknown, as she shared her plans, she felt like she was meant to be a part of the IoH family. We all agree.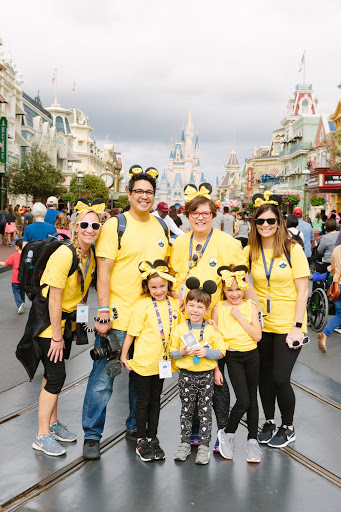 Jen (right) serving the Boisse family at Disney World
 Having lost her Dad at the young age of three, and after watching her mother fight metastatic breast cancer, Jen brings a certain understanding to IoH.  "I was 23 when my mother was diagnosed, and would have loved to talk to another person in their twenties about it." Not only does she recognize the importance of families meeting each other and realizing they are not alone, but she was also impressed by how open retreat-goers, volunteers, counselors, and staff were in talking about hard topics.  "Not necessarily in a sad way," she elaborates," but just talking with an acknowledgement that everyone has or is going through something similar." Worried that the freshness of her mother's 2016 death might make the experience all the harder, Jen instead found herself comfortable and embraced by the entire IoH family.
She also recognizes the unique niche that IoH operates in to help a population that is not often served by other nonprofits, "No one else has this mission, and it is so wonderful for families who are going through this hardship to be able to take their burden off for a little while–you can't put a price tag on that."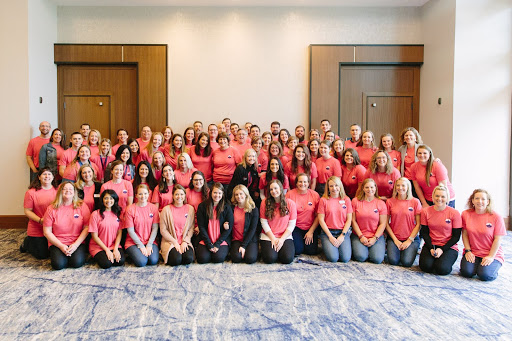 Jen and the entire volunteer corps ready to serve Inheritance of Hope families in Orlando
From a big Italian family, Jen's friendliness and warmth come naturally–prerequisites for the role of serving with IoH! And, her perspective sums up what IoH is all about, "I believe that attitude is everything, and a positive outlook can go a long way, but it's important to not be afraid to have tough discussions."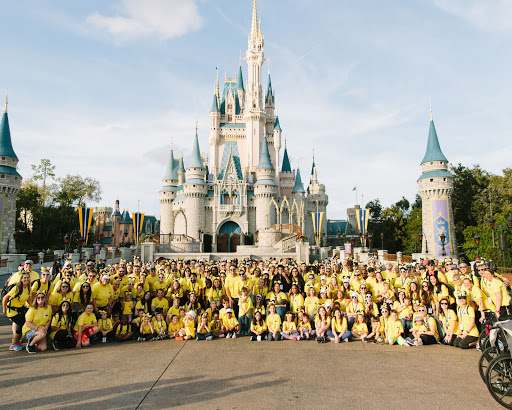 Orlando Legacy RetreatⓇ presented by Kendra Scott, February 2019
Angie Howell is constantly inspired by the people she meets in the Inheritance of Hope family.  Her connection to IoH goes back to Davidson College, where she met Kristen Grady Milligan the first week of their freshman year. Kristen eventually started Inheritance of Hope with her husband Deric, and Angie heard about their work at a college reunion.  In 2010, the two former hallmates got back in touch, and Angie became involved in IoH shortly afterwards. She has served as a Legacy Retreat® volunteer, Coordinator, and now, as a Content Contributor, Angie helps tell the stories of IoH. Read more Inheritance of Hope blogposts >>