Taylor Ethridge pauses as she thinks over a question. The Community Outreach and Event Planner for Kendra Scott Orlando is being interviewed about her recent experience volunteering at an Inheritance of Hope Legacy Retreat®. She is not getting off easy, "Can you explain more about how you were forever changed?" she is asked.
Taylor considers her words carefully but chooses one, "Hope."
"Hope," she says. "We are all affected by cancer, but I saw ten women with metastatic breast cancer walk away with hope in their eyes. They now have tools to leave a legacy and use their diagnosis as a chance to start living life every moment, and personally, I want to live like that too."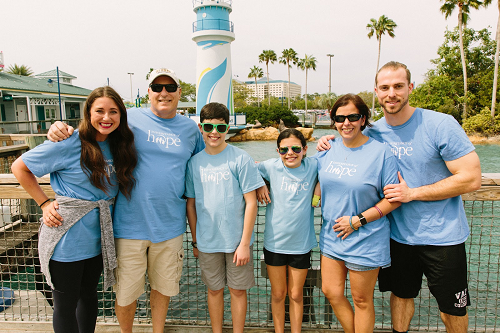 Taylor (on left) volunteering at a Legacy Retreat in March 2018
Just months after first learning of IoH, Taylor is a fully-committed volunteer. She has served on two retreats, and will host Kendra Scott events at a third next week.
"I will always be involved in IoH. You all welcomed me into your family, and to be able to see staff, board members, and volunteers serve so selflessly was incredible for me. Through serving, we all get to feel God's love."
Kendra Scott–jewelry designer, philanthropist, self-made businesswoman, and head of the expanding eponymous store–hosted an Inheritance of Hope Legacy Retreat® in January of 2018 for ten families affected by metastatic breast cancer. IoH is dear to Kendra's heart, and she and her company are quickly becoming dear to the heart of IoH.
In 2015, Kendra's close friend, Holley Kitchen, and her family attended a Legacy Retreat® for young families in which a parent is facing terminal illness. Holley passed away from metastatic breast cancer just months later. Now, Kendra supports families like Holley's in honor of her friend.
Watch highlights from the Orlando Legacy Retreat presented by Kendra Scott >>
Three women from the Kendra Scott Orlando store worked at the retreat, all all three–Katie Pluto, Taylor Ethridge, and Acacia Bobik–came back to volunteer at Inheritance of Hope's next retreat in March.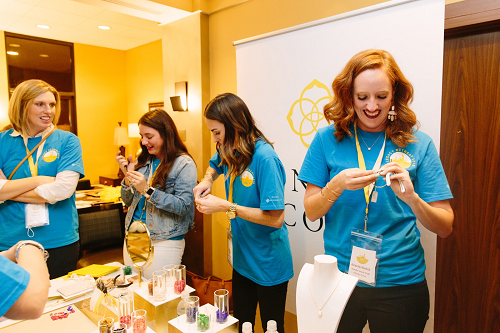 Katie, Taylor, and Acacia creating beautiful jewelry for Inheritance of Hope families
In May, Acacia will serve as a volunteer once again, and the entire Kendra Scott Orlando store is supporting Inheritance of Hope through a weekend-long give back event.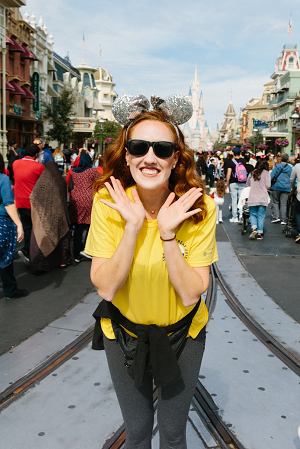 "Inspiring is an understatement. Thank you for the beautiful gift of allowing me to meet and serve these wonderful people! I cannot adequately explain the impact you've made in my life." -Acacia Bobik
On Thursday, May 24th, the Kendra Scott Orlando team will sponsor a special opening night for all IoH staff and volunteers. A pop-up shop, where Inheritance of Hope's retreat team can purchase unique jewelry, will be available before and after the pre-retreat meeting. 20% of all proceeds from that evening will go to IoH. The next day at the welcome dinner, a Color Bar will arrive where retreat participants can create a complimentary custom-made piece of jewelry, all donated by Kendra Scott Orlando.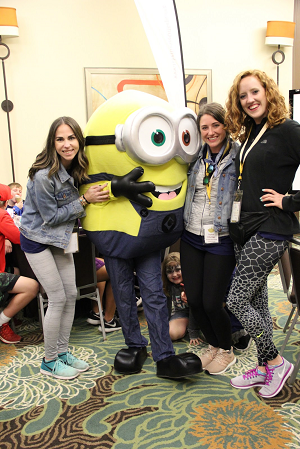 The Kendra Scott Orlando team having some fun at a Legacy Retreat in January 2018
Over the entire course of the weekend, all sales made by the Orlando store, both in-store and by phone, will be eligible for a 20% give back to IoH. Customers need to mention that they are shopping to support Inheritance of Hope during the 27-29th. This means the entire IoH family can participate from anywhere–and you can purchase gifts for yourself or anyone! Birthdays, graduations, anniversaries, really, any occasion can be made sweeter with a little yellow box, and it is the gift that gives twice–to IoH and to the recipient!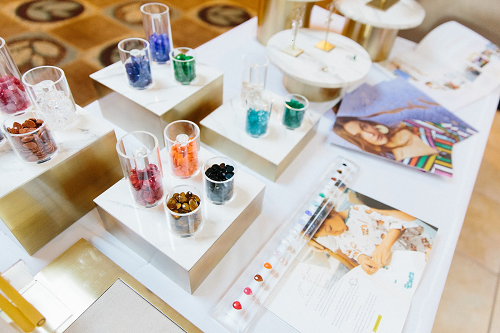 Shop for hope on May 27-29 by calling the Orlando store at 321-251-3309
Stores across the nation are also excited to support IoH. Taylor explains, "Stores local to the upcoming retreat areas are exploring how to get involved like our Orlando store has, and I am getting calls and emails from people everywhere asking what they can do!"
Kendra Scott's corporate culture is driven by the mantra "What matters to you matters to us," Kendra, Taylor, Acacia, Katie, and many other supporters are showing that IoH matters to them. Please show your appreciation by calling the Orlando store at 321-251-3309 during the give back event, share this event on social media, and SHOP FOR HOPE!

Angie Howell graduated from Davidson College, where she met Inheritance of Hope Co-Founder Kristen Grady Milligan the first week of their freshman year. In 2010, the two former hallmates got back in touch, and Angie became involved in IoH shortly afterwards. Angie has served as a Legacy Retreat volunteer, Coordinator, and now, as Communications Manager, Angie helps tell the stories of IoH. She is constantly inspired by the people she meets in the IoH family. Read more Inheritance of Hope blogposts >>