Spencer Reid represents an exciting direction for Inheritance of Hope: He is one of two recent hires that were served on a Legacy RetreatⓇ as a child of a diagnosed parent.  "The start for my family with IoH was when we were served in May 2015," he remembers. "My mom had Metastatic Breast Cancer, and not only was it a great, impactful trip, but the timing was very important for us, because my mom passed away just a month later.  Our Legacy RetreatⓇ was the last thing we did together as a family."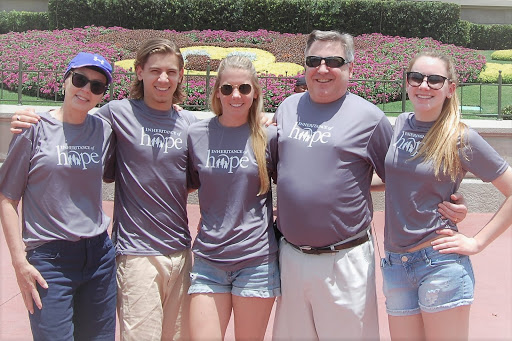 The Reid Family at their Orlando Legacy RetreatⓇ in May 2015
Within two years, Spencer was volunteering himself, and recently, the four Reids–including dad Tony and sisters Morganne and Hannah–all served together in Orlando. Spencer has worked at five retreats to date, but his dad Tony is catching up, volunteering every chance he gets.  One reason IoH is so special to the Reids is the organization's thoughtful attention to all family members. Spencer explains, "What I like about IoH is that we address being a family instead of all the focus being on the illness." On retreats, Spencer and his dad often use their experiences to talk with parent groups, further emphasizing the importance of caring for the whole family.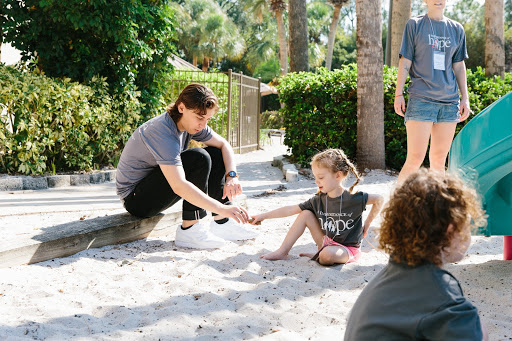 Spencer's enthusiasm for IoH is contagious.
As Development Coordinator, Spencer will use skills honed in the hospitality industry to build IoH outreach efforts and systematize internal fundraising systems.  He also will be the new face of Team IoH, working with athletes to ensure they have all they need to meet their personal fundraising goals.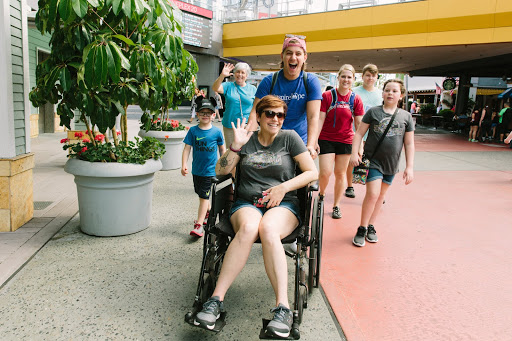 Making a special memory for a fellow IoH family member
Spencer is as determined as he is qualified, "My vision lines up with IoH leadership and the goal of being able to impact as many families as possible.  I would love to see it get to the point that any family–even internationally– would know about IoH and easily be able to be served." These forward-thinking aspirations will serve both families and IoH well.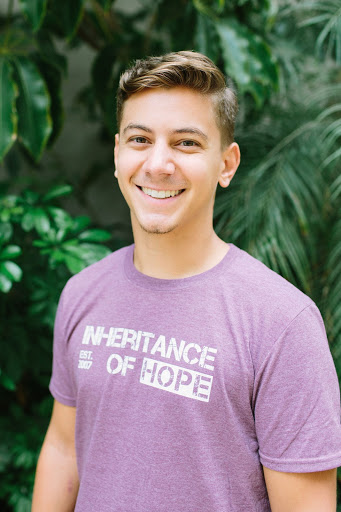 Welcome, Spencer!
Angie Howell graduated from Davidson College, where she met Inheritance of Hope Co-Founder Kristen Grady Milligan the first week of their freshman year. In 2010, the two former hallmates got back in touch, and Angie became involved in IoH shortly afterwards. Angie has served as a Legacy Retreat volunteer, Coordinator, and now, as Communications Manager, Angie helps tell the stories of IoH. She is constantly inspired by the people she meets in the IoH family. Read more Inheritance of Hope blogposts >>