For Jennifer Dorado, there is a way to live through a pandemic with metastatic breast cancer, "One day at a time."  The 37-year-old mother of three, former competitive softball player, and unrelenting optimist has a simple but effective outlook, "A positive mind gives you a positive future."  Staying upbeat as she wakes every day, and pushing through, no matter how sapped her energy may be, has helped her navigate the challenges of parenting with a terminal illness, because, she knows, "I have too much to fight for."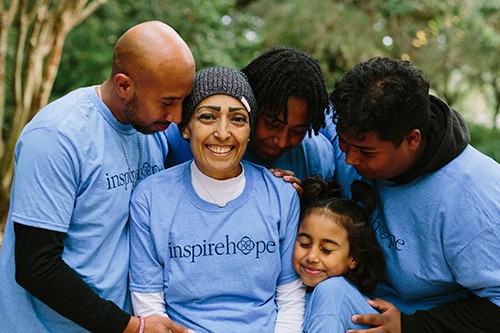 Jennifer Dorado's family surrounds her with love on their IoH Legacy Retreat®
She is fighting for life-partner Eddie, and their three children Leonard, Angelo, and Tiana.  Leonard wants to be strong for his family, loves football, and inherited his mother's athleticism.  Angelo checks on his mother, cares for her, and according to Jennifer, "will make a friend wherever he goes, whether it's a two-year-old or a twenty-two-year-old!"  Tiana has big plans–if she isn't president of the United States one day, she will be the best lawyer she can be.  
As for Eddie, joy and laughter ripple through Jennifer's voice as she describes how they met decades ago while she was working her first job, at Target.  "These girls I had just met, they were all so amped up about some guy named Eddie coming back.  He had worked there before and they all couldn't stop talking about this Eddie.  I thought, 'Oh man, this guy better look like Tom Cruise or something!'  When I did meet him, he was one of those people that everyone likes. He was my friend.  And now he is the love of my life."
It is for these four that Jennifer says she would be willing to go to chemo every day if she had to, because that would be another day with them.
Right now, she is going once every three weeks and has scans every three months.  She sits in the parking lot of the center waiting for her turn, sometimes for over an hour, due to COVID restrictions.  She acknowledges the seesaw so many cancer patients are on–one drug may abate pain but cause teeth and gum problems, each radiation treatment for spots on her brain was quick but excruciating, and so on and so on.  Her current medication is working, and the cancer is not growing.  But even if it were, she would stay the course–keeping her positive attitude and keeping busy.
The family breeds French and English Bulldogs together and Eddie is the co-owner of a plumbing business.  Since March, they have taken on a few home projects and found things to stay occupied. "I plan out my days," Jennifer says, "and I think it is important to exercise your brain every day."  To that end, she reads, works crossword puzzles, and colors with Tiana often.  The mother-daughter duo also makes time for activities that help relieve stress–techniques they learned on their Inheritance of Hope Legacy Retreat®.
In February 2020, the Dorado-Harrison Family attended the Kendra Scott-sponsored IoH Legacy Retreat® for families affected by metastatic breast cancer.  "We talk about it all the time.  I started creating boxes for my kids with books, videos, and cards for later.  I learned how these kids are thinking and feeling during the time their parent is sick, and after."  She explains, "I want my children to know there are people out there who understand. People they can express themselves to who care. Seeing how many children come back as volunteers shows how much this organization touches people."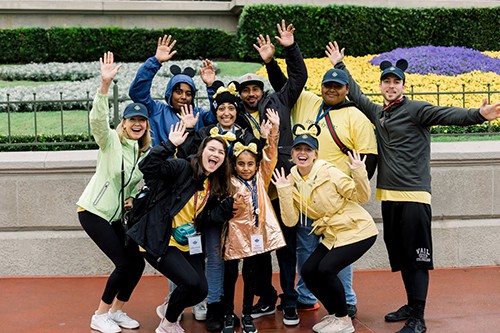 Volunteers on the retreat became trusted friends.
Jennifer was also glad that Eddie was able to swap stories with other caregiver dads, and that the entire family made genuine friendships–an unexpected bonus of the trip.  "All of us went in with the intention that we would do as little of the groups as possible–just get in and get out, but the retreat experience is so much better with everyone.  We needed those classes."  Plus, their vacation memories will last a lifetime and are especially precious now that traveling is on-hold.  Time at SeaWorld was Jennifer's hands-down favorite day.
The Dorado-Harrison kids plan to give back and volunteer once retreats are back on-site, but until then they keep in touch with friends they met back in February.  "Sometimes I see them playing games," Jennifer starts, "and I'm about to get annoyed, but then I find out they are playing Fortnite or something else with a friend they made on the retreat, and I'm glad–it's all good!"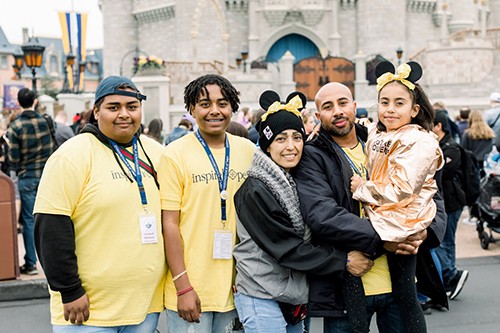 The Dorado-Harrison Family will always have precious memories they made in Orlando
Angie Howell is constantly inspired by the people she meets in the Inheritance of Hope family.  Her connection to IoH goes back to Davidson College, where she met Kristen Grady Milligan in the first week of their freshman year. Kristen eventually started Inheritance of Hope with her husband Deric, and Angie heard about their work at a college reunion.  In 2010, the two former hallmates got back in touch, and Angie became involved in IoH shortly afterward. She has served as a Legacy Retreat volunteer, Coordinator, and now, as Communications Manager, Angie helps tell the stories of IoH.  Read more Inheritance of Hope blogposts >>