Julie Hull, Inheritance of Hope donor and volunteer, lost her husband, Ken, after he fought cancer for two years. In spite of her grief, Julie is resolute.
"I commit myself to carrying the message of Hope and sharing it through volunteering and serving kindred families on this difficult path."
Julie has sponsored two families on Legacy Retreats® and also volunteered at retreats in Orlando and New York. She, Ken, and their son Sam attended the 2011 NYC Legacy Retreat®. Ken passed away in February 2013, leaving Julie and Sam (then age 12).
| | |
| --- | --- |
| | |
| Hull Family at NYC Legacy Retreat® | |
| | |
The experience of living through Ken's cancer left Julie with a deeper faith.
"I have gained a spiritual awakening as the result of this journey through my husband's terminal illness. I now walk each day with a deeper consciousness of God."
As with all families IoH serves, there is much more to their story than the two years of suffering that took Ken. She describes an important part of that story:
"One chapter began with attending a retreat hosted by Inheritance of Hope. It was one of the lights during our dark days that shown so brightly! There it was. The Hope. That retreat was unconditional love and extravagant grace in action. It helped to reframe our suffering—we were not alone! Here was an organization founded by an amazing woman who was living out the parallel paths of joy and suffering. And she was providing a way for others to share in her hope for her children, equipping hurting families with tools to leave a legacy and memories to last a lifetime."
Julie adds, "I love the words of Anne Voskamp: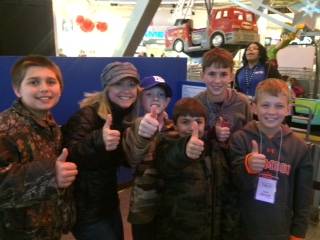 Julie Blessing IoH Families
'You will be experienced as a blessing—to the extent you have first experienced yourself as blessed. You must feel the fullness of your own pitcher before you trust the pouring out of yourself.'
"I consider myself blessed by IoH, and I have been honored to trust the pouring out of myself in serving IoH."
Julie and Sam miss Ken as much as they loved him—tremendously. She acknowledges that grief is tricky: "It comes in many forms and without notice." While the past two years seem a lifetime ago in some ways, at times she expects Ken to walk through the door asking about dinner.
While she and Sam will always bear the loss of Ken, they also bear hope. Today, when she is not volunteering for IoH, Julie is working on her master's degree in counseling. After years as a stay-at-home mom, she went back to school and will soon be a licensed family therapist. Sam is doing well, and they both cherish and honor Ken's memory. Although it is not an easy path, Julie says, "I will continue to Inspire Hope as I continue the journey!"
How do you #InspireHope in your community? Show us for a chance to be featured in Inheritance of Hope social media! Send your words, photos, videos, or other creative expressions to Eric@InheritanceOfHope.org.