Friday, March 13, 2015, Jerusalem Half Marathon: Runners climb paths long traveled by pilgrims. They gaze upon landscapes that have been treasured and disputed for ages. The paths are now roads and the scenes have been added to, but the place is timeless—as are the struggles and dreams of its people. Men and women of many nations pass through the Jaffa Gate under the watchtower of David and exit the Old City through the Zion Gate. They run along the once-cursed Valley of Gehenna, past a U.N. peace-keeping site, and close to the tense area of East Jerusalem. And, the marathoners run by ancient sites, holy sites, places that are sacred. With each step, one runner offers a silent prayer. With each new view, she senses the courage that new life will one day be ushered in. With each breath, she hopes for this nation to find peace with God.
Sunday, March 15, 2015, New York City Half Marathon: Cheers from hundreds of voices fill the air, smiles of encouragement grace diverse faces, and opportunity is demonstrated on every corner. The course begins in Central Park and passes by evidence of what is possible—down broad avenues flanked by the rewards of prosperity, through the excitement of Times Square, and into revitalized neighborhoods along the Hudson River. The runners race past the World Trade Center site and Battery Park. They finish on Wall Street. With each step, one runner offers a praise of thanks. With each new view, she feels courage that God is as present now as ever. With each breath, she hopes that one day all people will know the Prince of Peace and His peace that passes all understanding.
Over the weekend of March 13th-15th, Lisa Duscio, Team Inheritance of Hope Coordinator and Legacy Retreat® volunteer, completed a marathon spanning two continents: the Jerusalem Half Marathon and the New York City Half Marathon. The routes and experiences may have seemed divergent, but her goal and heart were of one mind.
Those who know Lisa know that her ever-present smile is matched only by her ever-ready heart. She brought both to Jerusalem and New York in her desire to support the concept of family—not just the families served by Inheritance of Hope, but the family of God. "As the family of God, we are called to love one another and share hope." That is the basic tenet of IoH, and Lisa shared God's love and hope in both Jerusalem and New York. "It had been my dream to go to Jerusalem as a friend, praying for the city and its people and promoting the idea of family."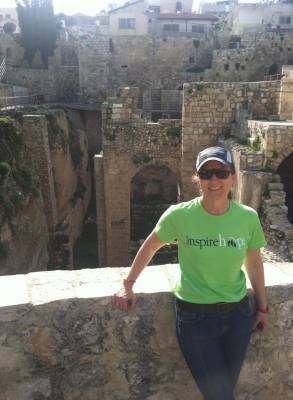 Lisa in Jerusalem
Lisa, 53, ran her first marathon in 2007 at the age of 46, six years after surviving a diagnosis of life-threatening breast cancer. She has since run three marathons, but the Jerusalem Half Marathon was her first international race.
Lisa's idea to run in the Jerusalem Half Marathon was first ignited two years ago. As she researched the possibility, her desire to follow this dream grew, but mounting logistical challenges did as well. As Team IoH Coordinator, her presence at the NYC Half was crucial, and the events were unfortunately scheduled for the same weekend. Lisa decided she would run both. Many people told her it was not possible. When she could not find a travel partner to accompany her to Jerusalem, she decided that must have been God's way of showing her that indeed, running a marathon on two continents in the same weekend would not work.
In December 2014, Carla Fullam approached Lisa and said while she herself was not a runner, she was going to run the Jerusalem Half Marathon with Lisa. The two began to make their travel plans immediately.
During her training, Lisa suffered an IT band injury and severe foot pain due to plantar fasciitis. Any runner knows these can be race-ending injuries. She was forced to take three and a half weeks off from running, and then completed just two three-mile runs before the events. "But, I never doubted that I would finish. It's a miracle that I finished both races without pain, but I knew God would see me through. I went in believing I could and God made me carry it out. We should encourage people that if you have a dream in your heart and you get God's thumbs up, go for it! Trust that He's got it."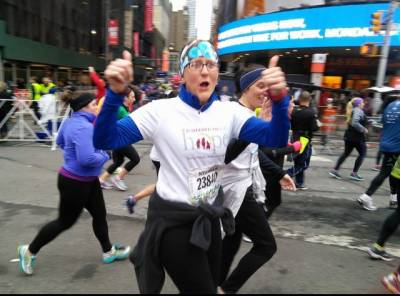 Go for it!
In Jerusalem, Lisa and Carla stayed at the Succat Hallel, a 24-hour prayer house that means Tabernacle of Praise. Lisa and Carla led a worship service on the Wednesday night before the marathon, and were moved by the faith of those who come stay at Succat Hallel in exchange for prayer and worship. They toured the city for four days before the race, visiting holy sites such as the Garden Tomb, the Temple Mount, and the Old City of Jerusalem. One of the most memorable moments for Lisa was at the Western Wall.
At the Western Wall, Lisa felt God's presence and His love. "It is not a human understanding that can be explained when you feel His presence, but your heart feels it." As she prayed at the wall with many other women, she knew that God loves His people and has not forgotten them.
When the race day arrived, Lisa and Carla donned their bibs and smiled as they ran—thankful for the gifts we all share as part of God's family.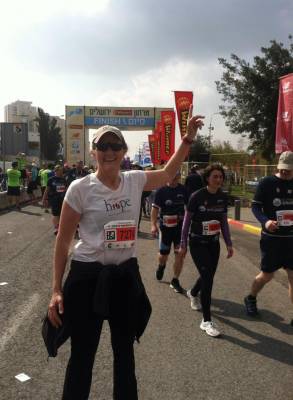 One continent's half marathon done, one to go
Friday evening following the race, Lisa and Carla flew out of Tel Aviv back home to the U.S. Lisa slept on Saturday in preparation for the NYC Half Marathon on Sunday. Joining her Team IoH friends and Grace Gerdin, who would run with her, she celebrated her accomplishment and fueled for the next day with pasta and good fellowship.
Although the first part of the New York City Half Marathon was challenging and hilly, Lisa finished strong. A perfect photo opportunity arose when in Central Park, Lisa passed a mile marker sign pointing to Tel Aviv—just 5,692 miles away! Seeing how far she had come was a high point of the race. Overwhelmed with gratitude after completing her second half marathon in just a little over 55 hours, she crossed the finish line with an emotional gasp.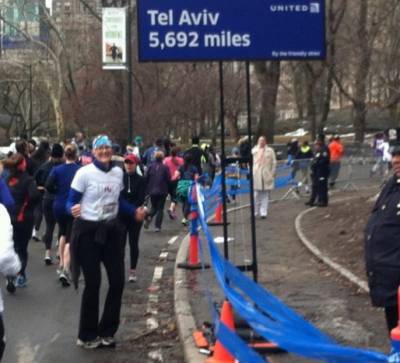 Not far enough to slow down Lisa!
"We don't know how the mystery of faith and prayer work. And, that is OK, because we don't need to know all the answers. What we do know is that God is very big. And, we know that our faith pleases Him. If we are in a tough situation, we need to have the faith to live above it, and to take steps beyond our limits. For these races, I just kept taking steps beyond my limit, because I knew I was going to finish. I knew it was going to happen."
Lisa recognizes that the act of continually taking steps is how Kristen and Deric Milligan founded IoH. What should have been an impossible task for a terminally ill mother of three was not impossible because of faith, and because she and Deric kept taking steps beyond their limits.
As Lisa demonstrates at the Tel Aviv sign in Central Park, the City of God is not that far away. Her accomplishment shows us how connected we all are as family, and all that is possible when things are done with great faith, hope, and love.
Angie Howell is constantly inspired by the people she meets in the Inheritance of Hope family. She has volunteered with us since 2012 and became involved after reconnecting with her college classmate, IoH Co-Founder Kristen Milligan. Angie lives in Atlanta with her husband Clay and two daughters.