With its hundred-mile course and cumulative elevation gain of 7,636 feet, the Gran Fondo New York challenges the fittest of cyclists. Athletes endure months of training in preparation for the bike race, and Shannon Fogarty is ready–both physically and mentally.  This May 17th, he will take on the Gran Fondo in support of Inheritance of Hope.
He wasn't always a biker, but in the past few years Shannon has lost 100 pounds and changed his lifestyle to become healthier. A bike that once just sat in the garage now logs up to 90 miles each weekend and a few more during the course of each week. It shares space and road time with a professional Cannondale racing bike. Arguably, Shannon, like the other racers, is in the best shape of his life. He also has an inoperable brain tumor. He is riding not just in spite of it, but because of it.
A routine case of the flu led to Shannon's diagnosis of a grade III anaplastic astrocytoma in 2010. The tumor grew silently and asymptomatically until it had taken over a large part of his thalamus, rendering its removal impossible. He was originally given just six months to live. Since 2010, Shannon has had surgery to alleviate pressure on his third ventricle and has been on a combination of various drugs to slow the cancer's growth.
While he is comfortable discussing his illness now, this was not always the case. An Inheritance of Hope Legacy Retreat® helped him find the tools to manage the challenges of living with cancer. Alicia, Shannon's high school sweetheart and wife of 12 years, first approached Shannon about the possibility of attending a Legacy Retreat®. "She asked, 'Would you want to do this?'" he recalls, "'No,' I immediately answered."
Alicia persisted until the family, including then three-year-old daughter Alexa, attended the August 2011 Orlando Legacy Retreat®. At the retreat, Shannon told his story for the first time, and "I broke down," he said. Prior to the retreat, Shannon had not openly coped with his condition, and while his assessment that he was living his life to the fullest was and still is very true, learning to ask for support was invaluable.
Surprisingly to Shannon, the group counseling sessions were his favorite part of the retreat.
"We met wonderful people on the retreat, people who told their stories and shared how they were coping. That was the biggest takeaway for me—learning how to be able to talk about it."
His openness has served him well since the Legacy Retreat®, as a support network is always ready to care for the Fogarty family.
"People say that if you go through life with one handful of very close loved ones, you are really blessed. I have had more. I have friends I can call when I need to, people who help us in so many ways, and my wife, who is the greatest support system in the world," Shannon notes. "And I have a daughter who understands and gives me lots of hugs and kisses."
Shannon, Alicia, and Alexa live in Westchester, New York, and he commutes into New York City every day for his job as an associate producer on CBS's Blue Bloods. In 2013, however, he was robbed of his ability to drive when the tumor began to cause seizures. Although he did not accept this well at first, Shannon has turned it into a positive. He now takes his bike to the train station many days, and his renewed love for cycling led him to meet other enthusiasts and take long weekend rides.
One weekend in the fall of 2013, Shannon called up Paul Alizio, an experienced biker. Paul was a serious cyclist who had been riding for years, and the two knew each other through a mutual friend.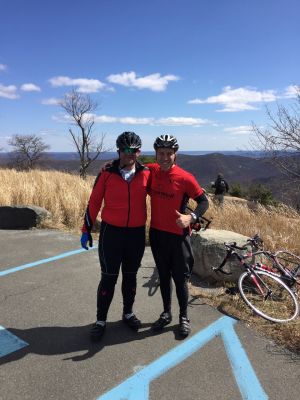 Shannon and His Riding Buddy Paul
Shannon remembers, "I just said, 'Let's go out and bike. It's a beautiful day.'"
The two began biking on weekends together, and they decided to do the Tour de Bronx, an organized 40-mile ride through all the neighborhoods of the borough. After the success of the Tour de Bronx, Paul suggested that they tackle the Gran Fondo together.
Shannon has never done a ride of this caliber. "I don't consider myself that good, but I'm gonna finish." His determination will certainly pay off. In spite of a back injury that sidelined him for four weeks, he has built his training regimen up and has the stamina and confidence to finish strong.
The race will be intense. The start time is at 7:00 am, and Shannon expects to cross the finish line sometime between 3:00 and 5:00 pm. He will begin at the George Washington Bridge in New York City, pass through 11 towns, climb four major hills, and cycle up one four-mile mountain. The first part of the race is along the Hudson River, but it quickly turns demanding around mile 30, when the riders begin ascending. At mile 40, they will reach Bear Mountain. From that point, the remainder of the race is constantly up and down.
As Shannon rides, he will be thinking of nothing else.
"I find peace when I ride my bike. I go out and ride, and it's a relief to me both physically and spiritually. When I ride, it's awesome," he says. "I don't think about cancer, life, work, or anything else. Everyone should find that one thing that allows them to lose themselves in it—not to hide away from their problems, but to lose their problems."
Choosing to ride in support of IoH was easy for Shannon. "I wanted to help the organization that helped me so much. Our time on the IoH retreat was such a blessing, and that is why I am doing this," he explains. "There are other people much more sick than I am who really need to be touched."
Shannon is certainly doing his part to help. So far, he has raised over $13,000 to send more families like his on an IoH Legacy Retreat®. He has inspired hope in countless ways. And, of course, Alicia and Alexa will be proudly cheering for him at the finish line.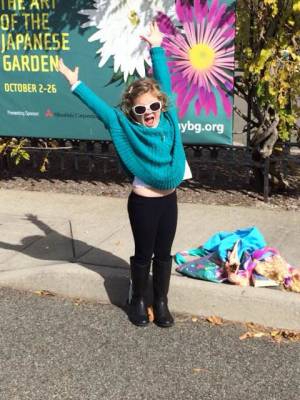 Alexa Cheering at the Tour de Bronx
Angie Howell is constantly inspired by the people she meets in the Inheritance of Hope family. She has volunteered with us since 2012 and became involved after reconnecting with her college classmate, IoH Co-Founder Kristen Milligan. Angie lives in Atlanta with her husband Clay and two daughters.