Displaying memorabilia like photos and items that hold significance to you and your loved ones is important because it has the powerful ability to create a special and nostalgic experience. Whether during times of struggle or celebration, catching a glimpse of your favorite memories as you pass by should remind you that although life is full, your hearts are even fuller.
At Modernize, we are passionate that your home should also be your sanctuary, so we rounded up a few different ways to get you inspired to creatively display your favorite memories.
Shelves
Pile on memorabilia like different sized framed photos and small trinkets placed here and there to set the scene. Use two or three beautiful ledge shelves to keep your space contained—you can even paint the shelves to match your frames as well. Stack them evenly atop each other and fill them up with items to your heart's content! Add a few framed quotes that hold special meaning to you and your family, a collage of ticket stubs, photos, and other objects from a fun trip, or even something small and seemingly insignificant that recalls good memories.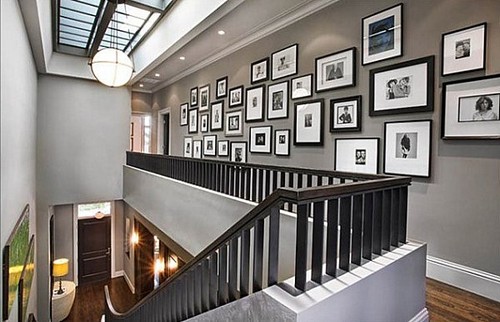 via Home at Your Fingertips
Create a Gallery Wall
Much like home life, gallery walls work because each individual item balances the other out to create a sense of harmony amidst what might otherwise seem like disorganized chaos. Start by locating an open space and choose a theme for your gallery wall. A wedding day, a memorable trip, or a collection of kindergarten art paired with some of your favorite professional pieces will do. Whatever you choose make sure it matters to you and yours, so that the gallery wall will evoke some really sweet emotional memories to be frozen in time.
Coffee Table Photo Books
Few things in life provide as much comfort, warmth, and nourishment as holding a book in your hands does. Imagine, then, just how much more special it would be to fill those pages up with photos of you and your loved ones. Take for example, the handcrafted Layflat Photo Book by Artifact Uprising that creates beautifully bound photo books that artfully preserve your memories. Leave it out on your coffee or side table to occasionally flip through and enjoy those small and unexpected moments of joy.
Antique Glass Jars
For a more timeless design and way to display your favorite memories, try this clever idea by Eclectic Living Home: Find old antique glass jars or bottles and collect some old black and white photos (newer ones work just as well) and slide them inside. It's the perfect way to decorate a mantle or a ledge shelf and will capture your attention every time you walk by with its interesting and unique display.
Katherine Oakes is a writer, yoga instructor, and vocalist living in northern New Jersey.