Shawanna White was the first female half marathoner to cross the 2016 Hunter Subaru Legacy Run finish line with a time of 1:24:17. She's been running 17 years and has participated in many races, including Cooper River Bridge (SC), Mercedes Benz Marathon (AL), and Get In The Pink 10k (SC).
I am originally from Atlanta, GA, but I currently reside in Columbia, SC. I graduated from the University of West Georgia with a BS in Physical Education. I started running in 10th grade because my high school coach saw me in the office one day and asked me to run track. I told him he would have to ask my grandma. She said yes, but only if he brought me home because it would be too late to ride the bus and there was no family car to be used. 
What's your favorite race?
My favorite type of race is women-only races like Heart and Soles 5-miler and Atlanta's Women 5k.
What is your greatest running experience?
In the past, I would say a race where I PR or winning my 3rd marathon, but not anymore. My most treasured running experience is in November 2013 when I ran my first race back from hip surgery in honor of my grandmother who died from pancreatic cancer. I was overwhelmed with joy to be able to race pain-free to celebrate my grandmother's life and to support pancreatic cancer.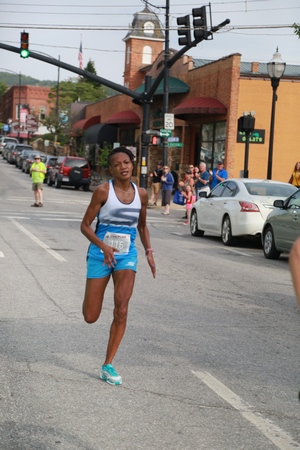 Shawanna nears victory in the Hunter Subaru Legacy Run Half Marathon.
What's your personal record Half Marathon?
1:19:53
What race(s) are you preparing for now?
I am preparing to run a fast 5k this summer, but my next 5k is Jailbreak in Lexington, SC.
What's a "fast 5k" to you?
Anything faster than 17:39, but I am shooting to break the state record in my age group.  I need to run 17:03, and I hope to do so this summer.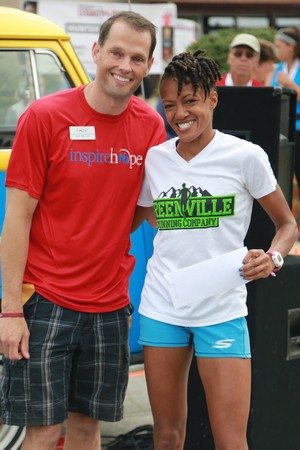 Shawanna with IoH Co-Founder & CEO Deric Milligan
What goals have you set for yourself?
A goal I have been chasing for a while is to qualify for the Olympics Marathon Trials. I had to change my goal of trying to qualify for 2016 due to hip surgery in spring 2013. Just learning how to run again was a struggle, but I am eager and determined to make it to the starting line for 2020. The work begins now!!!