Rachel Pearson dreams big: "Ten years, cover of Forbes… yeah, I can see that." Anyone who meets Rachel can too. But successful growth for her young business of organic skincare products is not her only goal. "I want to educate you and heal your skin. And I want to give back. That is the most important thing we can do."
Rachel had no background in business or skincare when she started on her quest to find healthy products for her skin. She was suffering from severe contact dermatitis, and had been given multiple prescription creams that seemed to make the condition even worse. After doing some online research, she went to Whole Foods only to come home frustrated by the prices and questionable sourcing of ingredients. In 2013, Rachel made her first batch of balm with organic beeswax and oils. It healed her itchy, dry skin.
More experimentation followed and a year later, RachelMade was born.
Click to visit the RachelMade web site!
As Rachel explains, there is a big difference between natural and organic. "When a natural substance such as peppermint essential oil is extracted and produced, all of the things that went into those peppermint plants are concentrated in the final result of essential oil. If the plants were treated with pesticide, those chemicals can also be present and concentrated in the oil. That is why I use only certified organic ingredients. People are suffering from more and more disease and we don't know why. Living more organically might ameliorate and prevent some of our problems."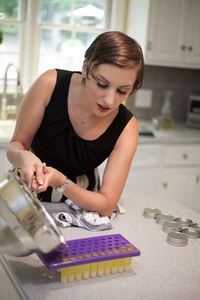 Every batch is made by hand.
Although packaged as beautifully as any spa line, RachelMade skincare is wellness-focused and reasonably priced. Each batch is handmade with high quality standards and concentrated ingredients. A little bit of each product goes a long way.
Depending on the product, Rachel's balms and scrubs smell enticing, yummy, invigorating or soothing. But, while a lotion by any other name may smell the same, Rachel's name is on these products. She is careful about what she will and will not put her name on, because it is also the name of her Aunt Rachel, who died of lung cancer in 2013.
Eventually, Rachel would like to start a charitable organization promoting lung cancer screenings in honor of her Aunt Rachel. For now, her focus is on giving back through Inheritance of Hope (IoH). A percentage of every sale goes to IoH, and Rachel donates a minimum amount each month that is independent of her sales figures.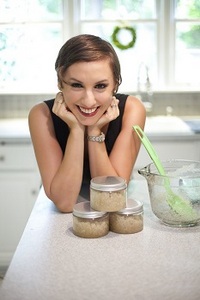 Here's to a "beautiful" partnership!
Rachel plans to become more involved with IoH over the coming years and hopes this is a long-term relationship for both organizations. "The larger I get, the more I give! When people have asked about this partnership, many react by saying how sad of a situation this is. My reaction is that of course it is sad, but that doesn't change that these families need hope, so let's help."
RachelMade currently has 6 product lines of organic skincare. Later this year, a seventh will be introduced, and eventually, Rachel has plans for baby care and home care products. While her goals are sky-high, she remains grounded. "I think for an entrepreneur it is better to not get yourself in a hurry. I am going to work smarter while working hard. I learned early on that the worst thing a small business owner can do is to go too quickly. I might make mistakes, but I will dust myself off and keep going. If I grow at the right pace for me, those mistakes will only make RachelMade stronger. The definition of success is overcoming failure."
And for Rachel, success also means helping others. "I think that you raise yourself by raising up others." Through their partnership, IoH and RachelMade will do just that.
Check out RachelMade at RachelMadeProducts.com.
Angie Howell is constantly inspired by the people she meets in the Inheritance of Hope family. She has volunteered with us since 2012 and became involved after reconnecting with her college classmate, IoH Co-Founder Kristen Milligan. Angie lives in Atlanta with her husband Clay and two daughters.