Fourteen-year-old Ethan Harned would prefer that attention be on Inheritance of Hope (IoH) instead of on himself, but his is a story that needs to be told. Ethan has raised $526 by selling wristbands, and the seed money came entirely out of his own savings. Most adults who hear about his initiative are surprised and ask what led him to use his own money. Ethan's reaction is surprise too—that more people are not doing what he has done.
Ethan came to learn of Inheritance of Hope through Carrey Dewey, who attended the IoH Orlando Legacy Retreat® in January 2016 along with her family—husband Eric and children Ian, Anne, Marie, and Colleen. Carrey has been living with ALS since 2014.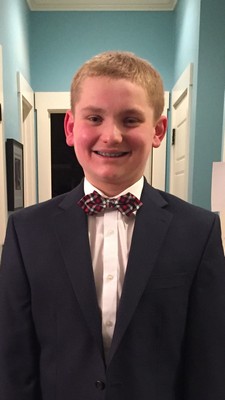 Ethan Harned
Although Ethan's family lives only a few miles from the Deweys in Louisville, Kentucky, their paths never crossed until the first day of school last year, in August 2016. Ethan's mom Beth saw a back-to-school picture on her Facebook feed, recognized the uniform of the boy in the picture, and clicked to read more.
A mutual friend had shared Carrey Dewey's Facebook post. Carrey's son Ian was a new 6th grader at St. Patrick Catholic School, where the Harned children had attended since elementary school. The Harned twins, Connor and Emerson, would be classmates with Ian Dewey. Through learning the Dewey family's story, Ethan was inspired by their strength and courage. He attended a talk to hear Carrey speak about IoH. From that point on a seed was planted.

Ethan's Wristbands
After doing some research, Ethan contacted IoH Co-Founder & CEO Deric Milligan. Once a plan was approved, Ethan took it from there. He contracted with a company that manufactures rubber bracelets and placed an initial order of 600, paying around 50 cents per bracelet. When selling the wristbands, Ethan does not put a price on them, instead asking for donations in any amount. "I have had someone make a $20 donation for one bracelet and someone pay $5 for three. I just want as many people to support this as possible and raise awareness so others will contribute too. What is most rewarding is seeing my friends bring their own money to school to support this."
Ethan has sold bracelets at St. Patrick Catholic School, a church fish fry, and through his swim team, Cardinal Aquatics, where Ian Dewey also swims. Although the requirement for the project is long completed, Ethan's efforts are not slowing down. "My reward is to see this continue, and my goal is to raise as much money and awareness as possible," he says.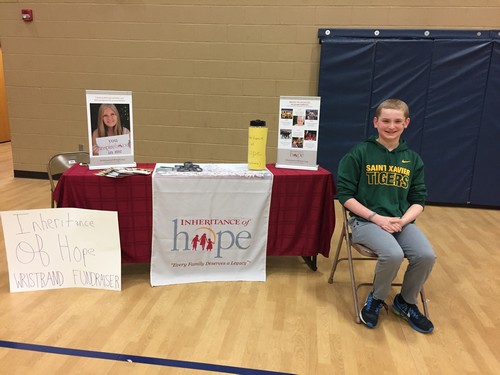 Ethan Raising Funds and Awareness

When talking about IoH, whether to a large group at the YMCA as he did recently, or to a single new donor, Ethan presses the urgency of his efforts—urgency that as many families be served as possible. He explains that while we cannot necessarily meet many needs of a family facing a terminal illness, we can provide a life-changing experience for them, which is how Carrey describes her family's Legacy Retreat®.
He also stresses that IoH is the perfect vehicle for inspiring hope. "One thing I like about IoH is that not only is it really touching people and making a huge difference in the lives of these families, but every penny I raise will go towards helping someone. I figured out pretty quickly that IoH does not have much overhead expense. Some people might think that the idea of a bare-bones operation is derogatory, but I think it is empowering," he says.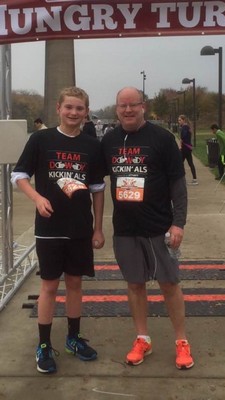 Driven to Serve More Families

Ethan recognizes that any family might one day need the resources provided by IoH, and he is therefore driven to reach as many families as possible. This year, Ethan is in the 9th grade at St. Xavier High School. He plans to continue raising funds and awareness for IoH at his new school and hopes to expand his reach by soliciting businesses around town to help cover the cost of more bracelets.
"Each of you should give what you have decided in your heart to give, not reluctantly or under compulsion, for God loves a cheerful giver." — 2 Corinthians 9:7
Angie Howell is constantly inspired by the people she meets in the Inheritance of Hope family. She has volunteered with us since 2012. She got involved after reconnecting with her college classmate, IoH Co-Founder Kristen Milligan. Angie lives in Atlanta with her husband, Clay, and two daughters.