"It's glioblastoma, and your life expectancy is one to two years."
Nothing could have prepared Jenae Dryden and her husband to hear such crushing news. And what would they even tell their two teenage children?
The Dryden family's world was turned upside down that day. Their lives now centered around hospital stays, radiation, unpredictable schedules, caregiving roles, and managing the harsh effects of cancer and treatment.
With little time to connect with others and enjoy any sense of normalcy, could they find anyone that really understood their situation? Anyone that they could connect with – no explanation necessary?
"Click to join your Hope@Home™ Group," the computer prompted.
With one click of one button, Jenae was instantly connected to a screen filled with compassionate faces in her Hope@Home™ Group and able to join from home, hospital bed, or on the go. No explanation ever necessary. An instant support group accessible to her at all times through the Hope@Home™ App.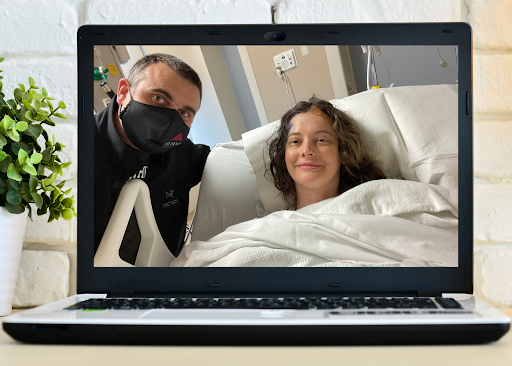 Inheritance of Hope's Online Services now offered Jenae and her whole family an opportunity to:
Share stories and receive resources with other families in a very similar situation through weekly online support groups called Hope@Home™ Groups.
Receive support through free online consultations with Certified Child Life Specialists who are trained in helping families navigate illness and can develop custom made resources to aid in coping.
Create a Legacy Video™ – a video interview with a trained Legacy Video™ Coach to help capture stories for that moment of time and compile it into a beautifully edited keepsake.
Perhaps you know a Jenae in your life… someone who is also facing a terminal illness and desperate for connection and support without ever having to leave their home. Or perhaps you are desperate to help even more families like Jenae.