Inheritance of Hope volunteers mean it when they call a family "theirs."  Just ask Colleen Urlaub and Judy Guerra.  Judy was the volunteer paired with Colleen's family at the Orlando Legacy Retreat® in February 2019, and the two former strangers are now family.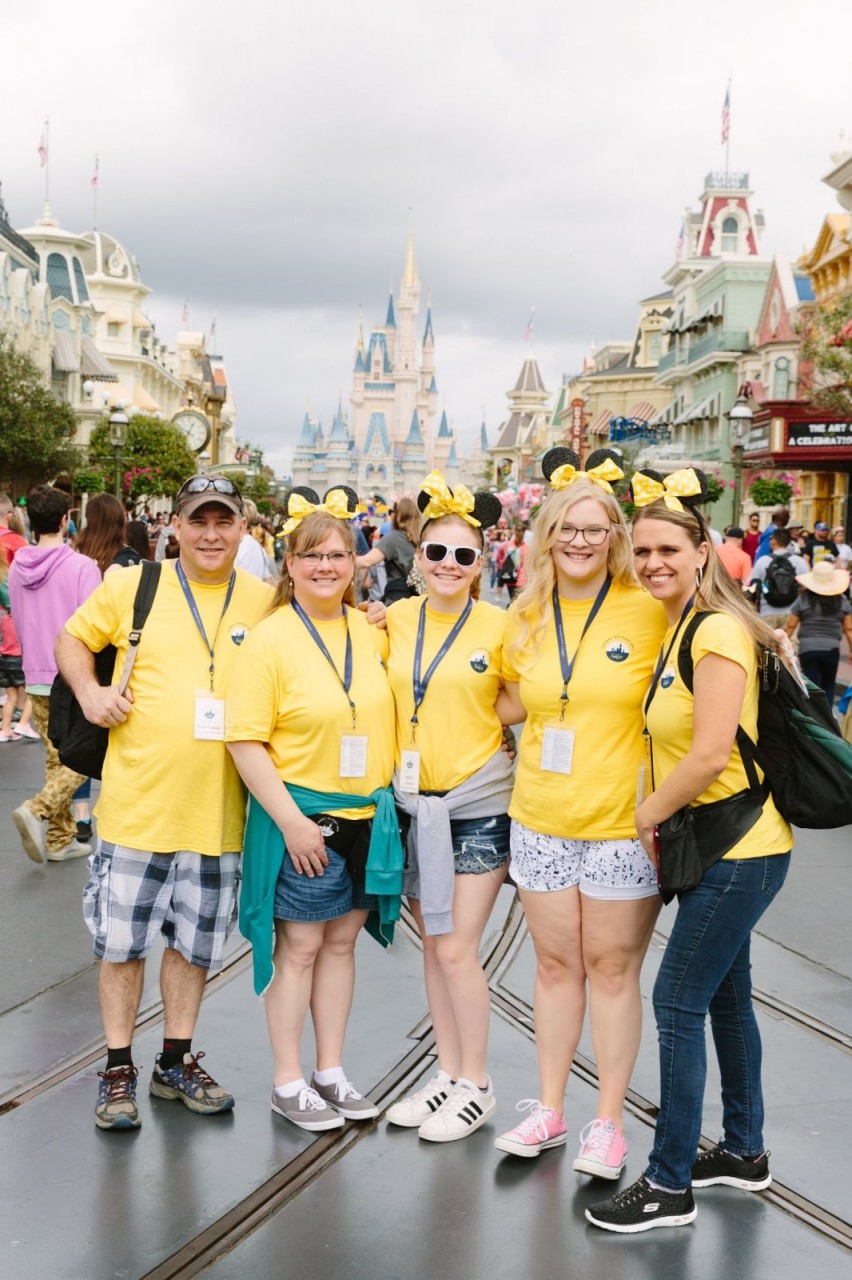 Brad, Christel, Ashley, and Colleen Urlaub with Judy Guerra (far right) in Orlando
Over one long weekend, the two formed a bond that most people can't understand.  Some might call it "service," but at IoH we simply think of it as love that flows back and forth, and warms hearts quicker than Florida sunshine can thaw out a North Dakota girl on Spring Break.
When Judy first met the Urlaubs–Christel, Brad, Colleen, and Ashley–they had already been traveling for over thirteen hours.  Up long before dawn, the family was excited to go on their IoH retreat, where mom Christel was looking forward to a little R&R and a much-needed respite from treatment for metastatic breast cancer.  But, a cab that had been hired never showed up, and their cars were frozen.  By the time the family reached the airport, their seats had been given to standby passengers.  "I was so sad for my mom–she was being a good sport, but we all knew how much she wanted that trip," says Colleen.  Not willing to give up easily, the Urlaubs made a new friend who had also missed the flight but had been able to drive her car to the airport. Brad drove all five of them south to the Twin Cities where they made a connection to Orlando.
"And Judy was there waiting for us at the gate," Collen recalls.
"I just remember thinking how tired they must have all been, but the girls were so sweet," says Judy.  "And," she adds with a laugh, "I was worried that these two cute teenage girls wouldn't like me, that I wouldn't be cool enough for them."
According to Colleen, Judy didn't need to worry at all, "Mom and Dad were tired that night so Judy took us out and I was like, 'Oh my gosh, this is going to be a fun weekend with Judy.'  Back in the room, we all talked about how we had lucked out with a good volunteer!"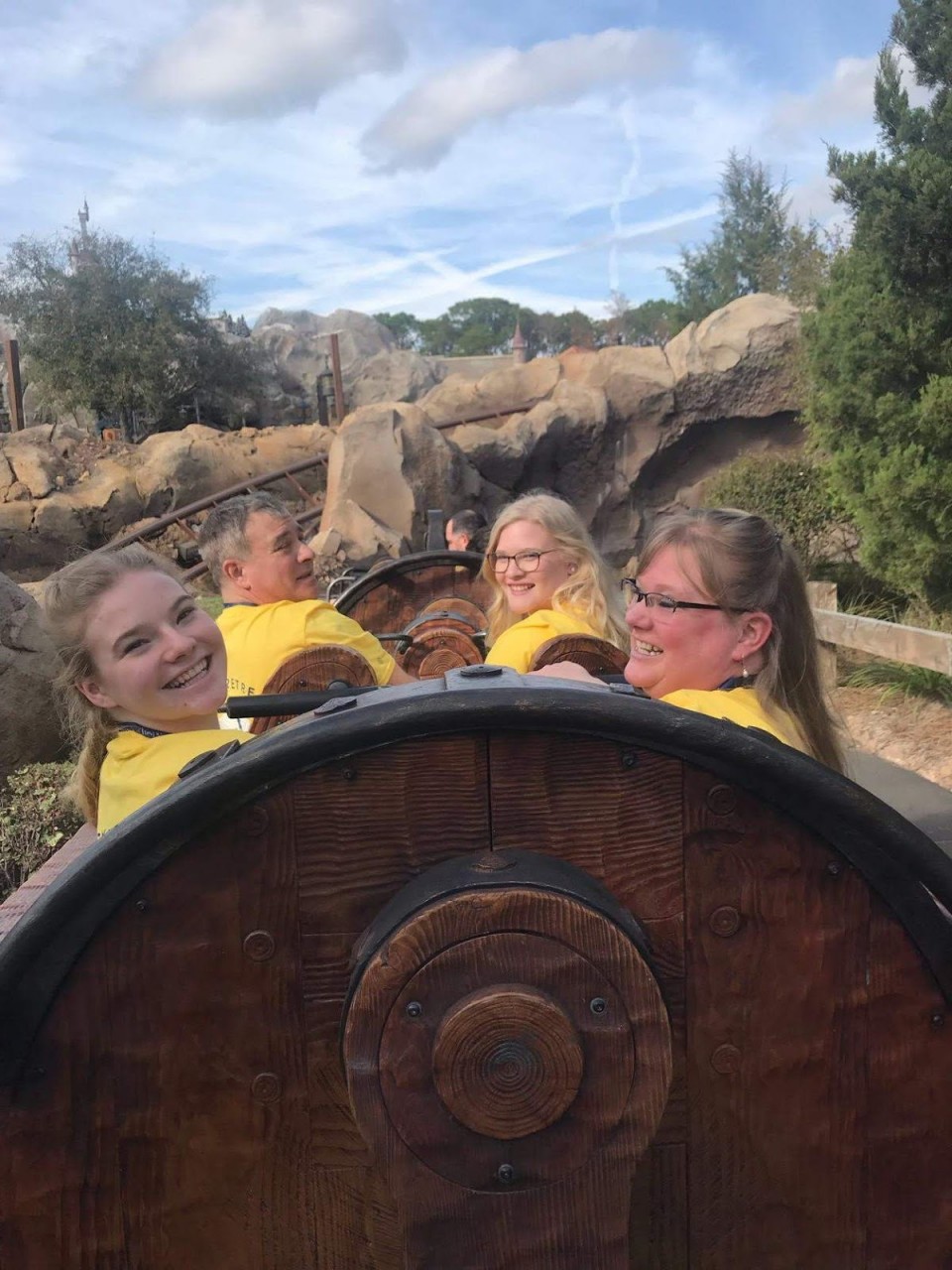 The Urlaubs–Ashley, Brad, Colleen, and Christel–said their family fun was more carefree because of all the ways Judy helped them navigate the theme parks.
Over the next few days, Colleen connected with other teens who truly "got it" and was able to openly talk about her mom's cancer for the first time.  "It gave me so much understanding about how we were already grieving before she even passed away."  They also had a whole lot of fun together, especially with Judy. 
"We stayed one more day after the retreat was over, and I remember crying," shares Colleen.  "Everyone was leaving and we didn't know where to go at the theme park and we just all missed Judy."
Judy missed them too, and like most volunteers and families, they all stayed in touch. Two years after the retreat, Colleen asked if she could come visit the Guerra family in Jacksonville over her Spring Break.  "I did wonder if a week might be too long, but then I thought how I know Judy, and I was right–it wasn't too long at all!"
Judy introduced Colleen to her family, including dogs and cats.  They played games, visited local (and not-so-local beaches), and laughed at the fail of a gluten-free cinnamon roll recipe like only a family can do.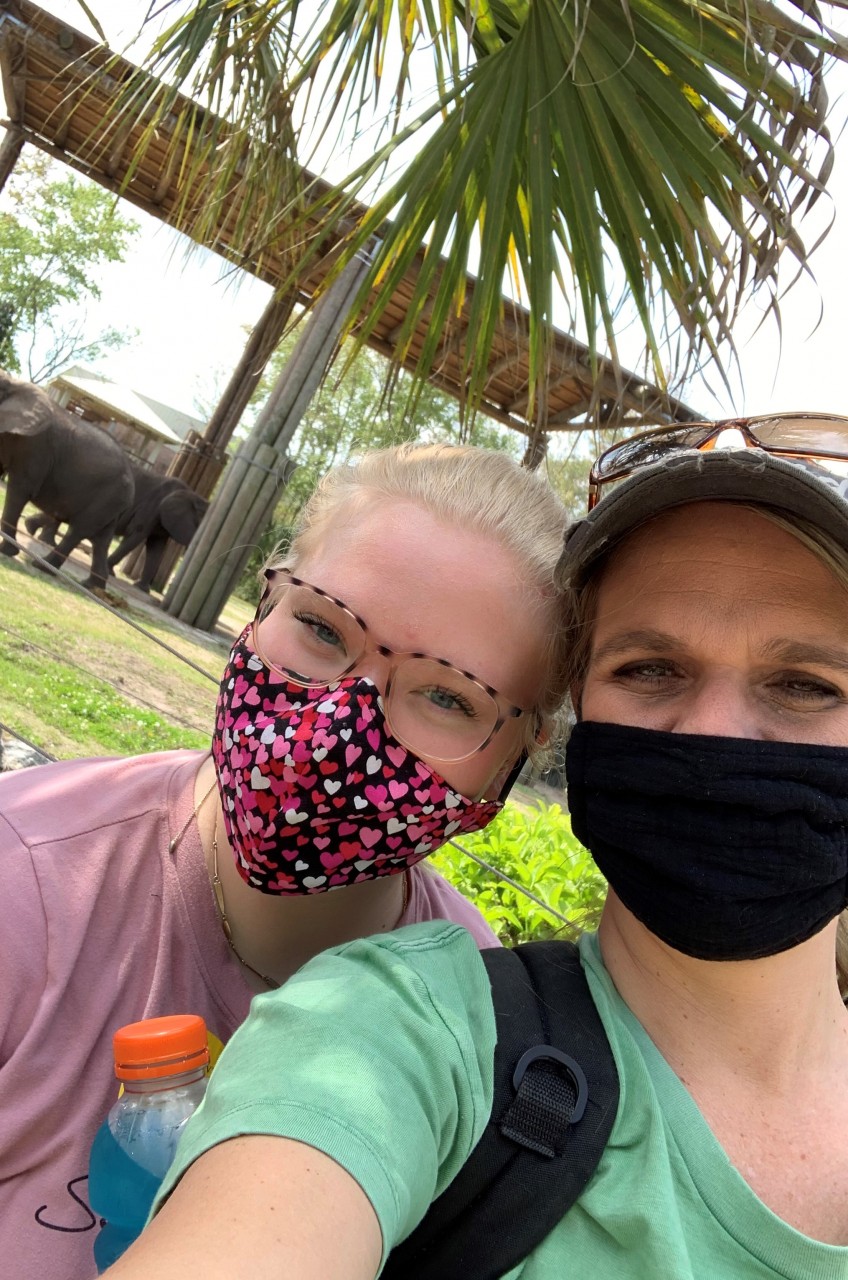 Colleen found that Judy was just as fun in Jacksonville as in Orlando!
Over the course of the week, an important date was also recognized–the one-year anniversary of when Colleen's mom Christel had passed away.  Going to the beach that day seemed a fitting way to honor Christel, who loved the ocean so much that she worked on a commercial fishing boat right out of high school.  Christel and Brad met on that fishing boat, in fact. 
For a few hours, Judy and Colleen simply remembered.  Colleen wrote Christel's name in the sand, Facetimed with loved ones, and was sure to get in the water despite the chilly weather, "Mom would have been splashing me if I didn't get in."
Life can be hard–Colleen never expected to lose her mom when she was just 19, in the middle of a pandemic.  But she also never expected to have someone in her life like Judy.  
Judy tries, but can't quite put into words what the family-volunteer relationship is to her, "On my first retreat I wondered, 'How are you going to get to really know someone in such a short time?' You don't even know what it is, but it is something.  You have a connection for life. It's so hard to explain, but all the families I have volunteered for are always going to be a part of me."
What does that mean for Colleen and Judy? They have already volunteered together at an online IoH event and plan to do that again at an upcoming Hope@Home™, but what they really hope for is the chance to serve together at an on-site event soon.  Oh, and definitely more beach days.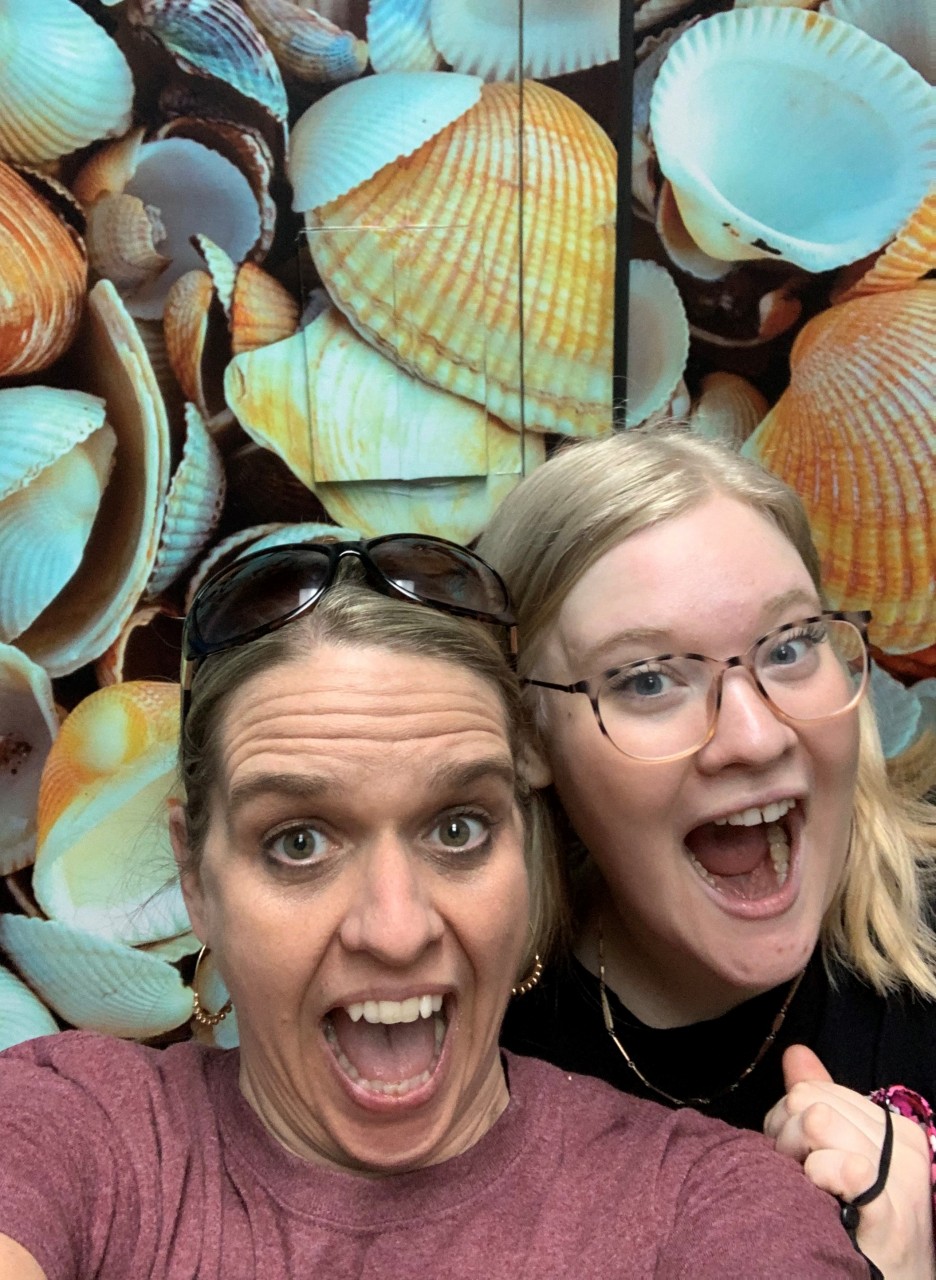 More than friends for life!
Angie Howell is constantly inspired by the people she meets in the Inheritance of Hope family.  Her connection to IoH goes back to Davidson College, where she met Kristen Grady Milligan the first week of their freshman year. Kristen eventually started Inheritance of Hope with her husband Deric, and Angie heard about their work at a college reunion.  In 2010, the two former hallmates got back in touch, and Angie became involved in IoH shortly afterward. She has served as a Legacy Retreat volunteer, Coordinator, and now, as Communications Manager, Angie helps tell the stories of IoH.  Read more Inheritance of Hope blogposts >>