"This is important–you should do it even if you don't want to."  –Rebecca Milligan
Rebecca Milligan has invaluable advice for terminally ill parents. Still in elementary school when her mother, Kristen, died, Rebecca is now seventeen, and can honestly say that her mother's presence has not only stayed with her, but continues to be a strong factor in decisions she makes today. You may wonder, "how?"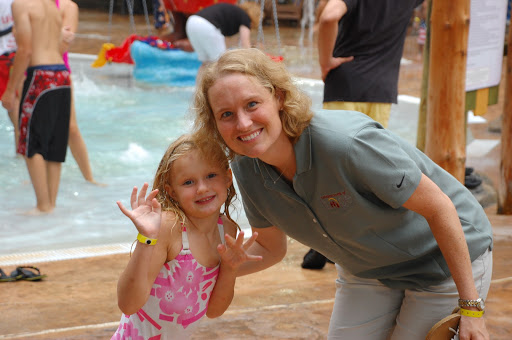 IoH Co-Founder, Kristen, with her daughter Rebecca
Kristen left notes, gifts, and videos for her family, and Rebecca in particular has appreciated what this means, "It's nice, especially for me, being the youngest, to be able to hear her voice.  I feel like without those videos and recordings, I might not remember what her voice sounded like." Not too long ago, Rebecca watched a video Kristen made for when her daughters reached an age at which they might want to date.  "That was kind of cool–a lot of what she said was stuff my dad had already mentioned, and he had never watched the video. It was like they were backing each other up, and they didn't even know it."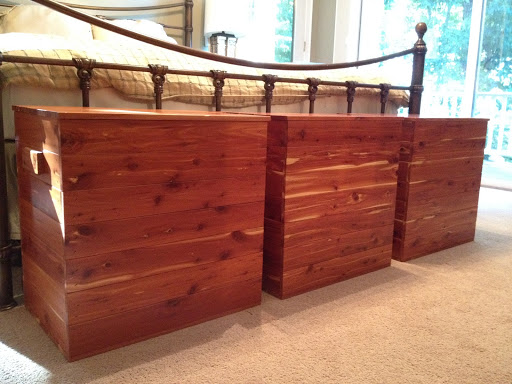 Kristen left a chest of intentional gifts for each of her children
Sentimental jewelry, a journal, and coins Kristen herself was given as a child are meaningful material things Rebecca has received, but none are as important as letters.  Rebecca elaborated upon the impact of Kristen's words, "You know how in a birthday card, someone will write things about you and what they like about you? Well, my mom did that, in a birthday card I received five years after she died, and she went into depth about my character. It was like she was predicting my future."  She paused, "Hold, on, I'll find the card and read it to you."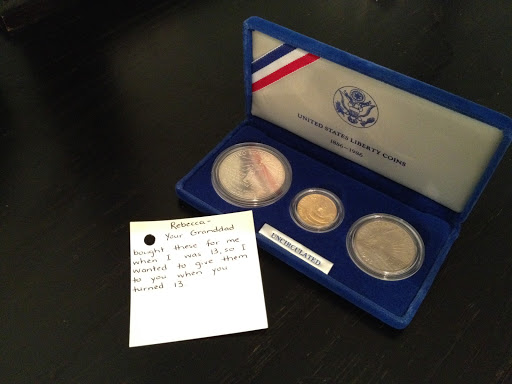 A 13th birthday gift for Rebecca – three years after her mother died
In a moment, Rebecca returned and read the expression of her mother's infinite love and fierce pride.  Kristen described Rebecca's "strength and unbridled joy" as a preschooler who loved games so much that she would intentionally lose just to spend more time playing, and predicted that Rebecca would develop a huge servant's heart.  
Another special momento came in the form of a photo Kristen left of the two of them swimming, "It reminded me how much I had loved to swim, and I started swimming again," Rebecca commented.  "I'm thankful that she left that."
Typically, the absence of a loved one feels even more acute on certain occasions, but for the Milligan kids, this isn't necessarily the case.  Rebecca explained, "The holidays and birthdays right after someone dies, you just dread them, because you don't want to experience them without that person you love, but I look forward to those days now, knowing I might get something from Mom."  
Kristen preferred not to imagine her family's life without her, but she didn't let it stop her from going to hard emotional places in order to comfort her family.  Rebecca recognizes that it was difficult for Kristen to make a video in case their father ever remarried, yet according to Rebecca, it was also one of the "most beneficial" ways she supported them years after her death.  Deric remarried in 2018, and knowing how their mom felt reassured the Milligan children as their dad found new happiness with Maitreya.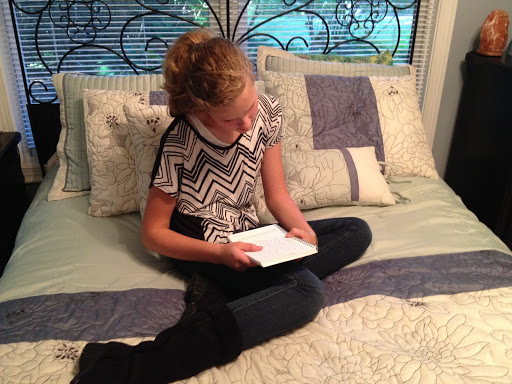 Rebecca reads a birthday note that her mom left for her
Rebecca urges parents to put aside their fears and realize that creating this type of legacy is no indication of surrendering to a diagnosis.  "I feel like a more accurate description of giving up would be to do nothing. There really isn't a downside. If you are alive and open gifts and letters with your family, they will think that's really neat." Rebecca continued, "For me, it was a real comfort to have. It is really cool that she thought about it so far in advance–years before she died.  It helped show us how important we were to her. In some ways, she is still here–and it gives a little bit of normalcy to a situation that otherwise wouldn't be."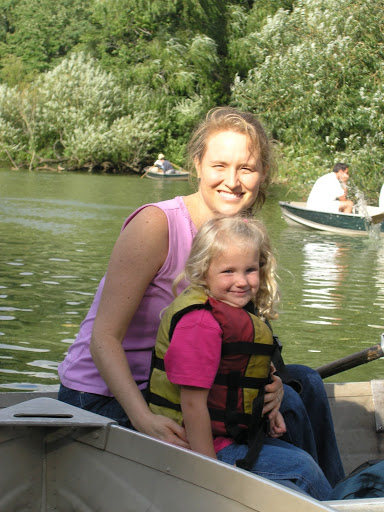 Making memories in NYC
Angie Howell graduated from Davidson College, where she met Inheritance of Hope Co-Founder Kristen Grady Milligan the first week of their freshman year. In 2010, the two former hallmates got back in touch, and Angie became involved in IoH shortly afterwards. Angie has served as a Legacy Retreat volunteer, Coordinator, and now, as Communications Manager, Angie helps tell the stories of IoH. She is constantly inspired by the people she meets in the IoH family. Read more Inheritance of Hope blogposts >>