"Legacy Builder" describes Martha Tofteland perfectly.  Not only did she help her late husband Ryan leave tangible evidence of his love for their young children, but she donates monthly to Inheritance of Hope so that other families might access the same resources that helped them.  The Toftelands attended an IoH Legacy Retreat® to California when their children were just six and three years old.  Nervous about how sensitive topics might be introduced to their kids, who had not yet heard their dad described as "sick," the Toftelands found that IoH gave Ryan courage and tools to begin the heartbreaking, yet vital task of creating legacy items for Finn and Liv, now ages nine and six.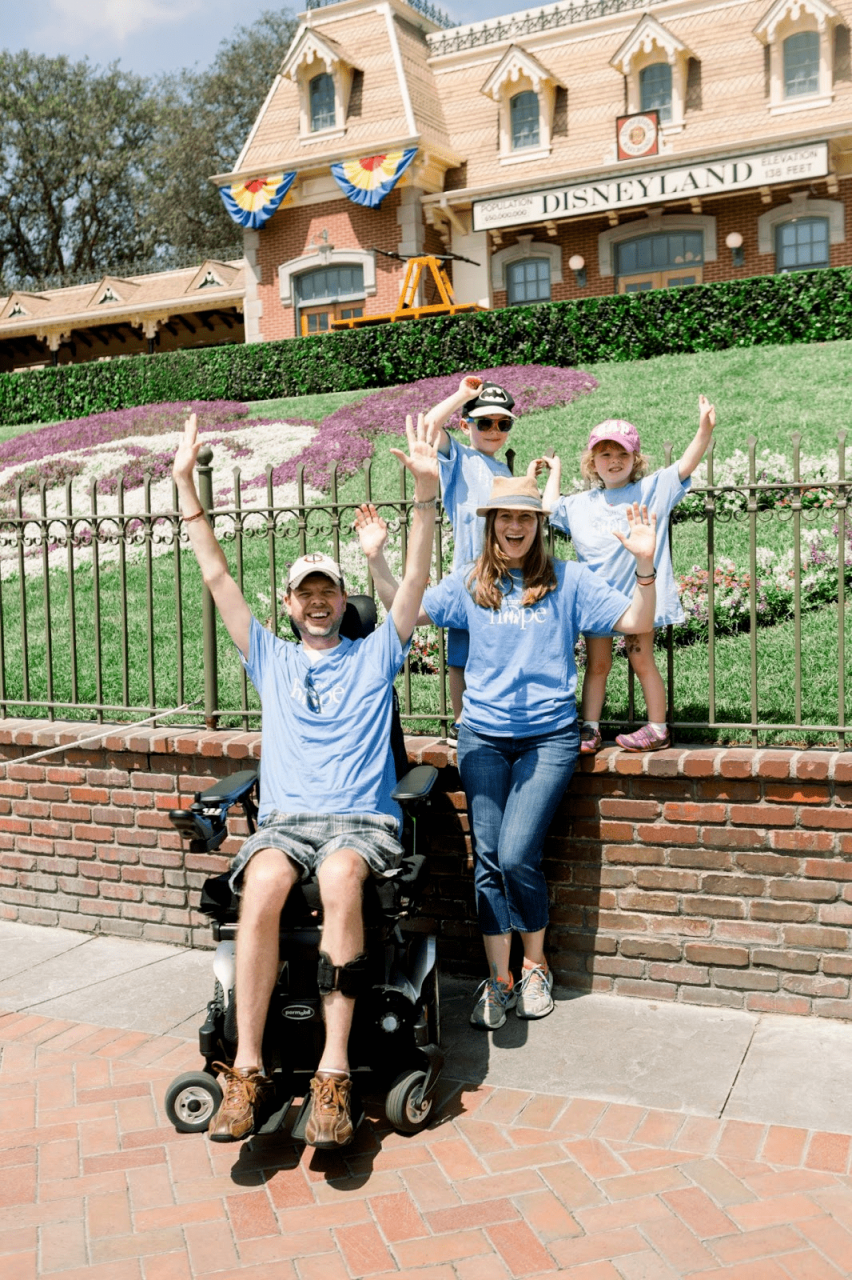 The Toftelands hold on to smiles like these from their IoH Legacy Retreat® in 2018. Ryan passed away 18 months later, in February 2020, at the age of 40.
Agonizingly aware that ALS would at some point take his voice, Martha remembers how important the Legacy Video created on their retreat was in jumpstarting the hard work they continued long past their trip to California, "It was the launching pad to us being more intentional."
After their retreat, Martha and Ryan put in the emotional energy, time, and effort required to live hopefully in the face of ALS.  Martha's background in journalism served them well as she came up with interview questions for Ryan, ideas for notes filled with humor, ways to leave behind glimpses of his personality, and true-to-Ryan lists in his own words.  And, more videos.  Videos that she is grateful to have today since Finn and Liv's last memories of their father are not of Ryan speaking with his own voice, but through a computer-assisted speech device.  Recently, Martha showed the couple's IoH Legacy Video to their children for the first time–it's one full of emotion.  "It's still precious even in its raw, painful state. I don't know that they had ever seen him cry or talk about them like that," she says.
Besides actively making keepsakes for their children, Martha and Ryan found that many aspects of their Legacy Retreat stuck with them for the long haul, "It fit into how we lived our journey.  We tried to make family the focus–by spending time together, making new memories, and establishing traditions Ryan could be a part of."
It goes without saying that Martha's journey is not over just because Ryan passed away.  While she, Finn, and Liv move forward, she stays connected to Ryan in any way she can, honoring this balance by incorporating Daddy into their everyday life.  "If something reminds me of him, I just say it in everyday conversation to normalize the idea that we can think of him any time." 
The Toftelands also recognized another facet of IoH that makes us unique in helping young families facing the terminal illness of a parent: we create a community of people who "get it."  The shared experience of talking in a small group was helpful for both Martha and Ryan, and she now participates in the Hope@Home™ "Life After Loss" group.  During this first year of grieving her husband, with added isolation during a pandemic, Martha has found comfort in the routine of showing up each week for a Zoom call with folks who understand.  "This has been a hugely meaningful opportunity for me," she explains, "I started at the beginning and I keep coming back. I really appreciate time with the people I have met in my support group."  
Not only does Martha participate in IoH events regularly, but Finn and Liv have tuned in to Family Game Night, and the whole family benefitted from our IoH Family Reunion this past November–offerings all made possible through our dedicated Legacy Builders. 
The commitment to become a Legacy Builder was not a big stretch for Martha.  Why?  "Because I really do believe that IoH had a profound impact on our family. I believe in what you offer families facing the terminal illness of a parent….  And," she adds, "I want other families to have that whole entire experience that we had of having fun together and being taken care of."  Thanks to Legacy Builders like Martha, that same care and fun can happen anywhere–onsite, online, and ongoing.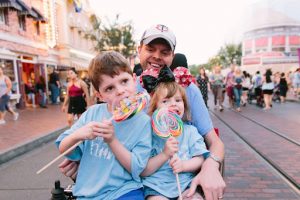 One of Martha's favorite memories from their family's retreat was this simple moment of kids being kids in their daddy's lap with "You know–the kind of lollipop you'd never let your kids eat that are great for pictures!"
Read more blog posts from our Legacy Builder series focusing on the people who make the work of IoH possible.  We hope you will Live Intentionally and Build a Legacy too!