It's not hard to imagine Bekka Adam as a mermaid–yes, you read that right–a mermaid.  Once you hear this award-winning belly dancer talk about her philosophy, it is easy to see how magical thinking has led her to a place of generosity, because Bekka never dwells on the impossible–instead, she finds the possible.
Bekka can't imagine not giving to Inheritance of Hope.  As a family-member-served, she says, "I could never repay IoH for what they have given me.  It's the least I can do. IoH is just something you want to be a part of.  That is what it comes down to."  
Along with her husband Chris and son Troy, Bekka attended Inheritance of Hope's Orlando Legacy Retreat® in May 2018.  She has a hard time choosing one favorite moment, although Date Night was a highlight, "There wasn't a single moment we were not having fun."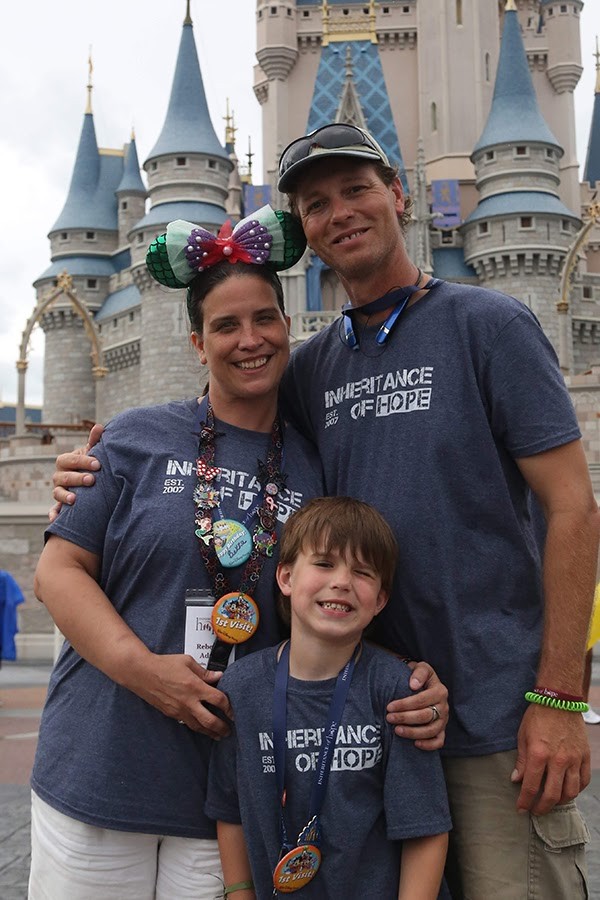 Magical Family memories with IoH
Even though she can no longer work due to complications from metastatic breast cancer, osteoarthritis, back issues, and a double knee replacement, Bekka finds room in her budget each month to give to IoH, and is one of our loyal Legacy Builders.  She thinks of her gift as one fast food meal or a couple of cups of coffee, something she easily can do without.  And, she was delightfully surprised when she realized what setting aside a few bucks every week had meant, "I didn't think my donations would add up to something substantial until Eric [Eric Miller, IoH Marketing & Communications Director] told me 'Yeah–you gave a session at a retreat.' It does make a difference." 
Bekka is proof that we all can make a difference, and her outlook on life confirms why we should always try, "I may need help, but that is exactly why I give.  You can't expect help if you aren't willing to give it yourself. Compassion comes from compassion."
For now, Bekka is working to make videos, set aside gifts, and write notes so that Troy will always know how much she loves him.  She admits some days are harder than others, but she keeps going.  Just like when she decided to be a mermaid.  
When knee problems stopped Bekka from belly-dancing, she dreamed big and thought about how she had always wanted to be a mermaid as a child
. 
And, then, she did it!
Bekka describes her younger self as a water baby who unwittingly swam alongside sharks while learning to boogie board during her childhood in Florida. Some might think of her cancer as another shark in the waters of life, but this mermaid is undeterred.  "I go moment by moment–not day by day, but moment by moment.  I put one foot in front of the other, and with my faith in God I try to be the best I can on any given day."  Or, maybe in Bekka's case, it is one sparkly fin in front of the other.  
Read more blog posts from our Legacy Builder series focusing on the people who make the work of IoH possible.  We hope you will Live Intentionally and Build a Legacy too!