John Thomas, known to friends and family as "JT," ran the Big Sur Marathon at the end of April in support of Inheritance of Hope. This was JT's 27th completed marathon–yes, you read that right–27th!
JT was introduced to Inheritance of Hope through his wife, Jennifer Thomas. Jennifer has served as a counselor on 16 of our 31 retreats thus far. JT explains that through Jennifer, he has had the chance to witness the difference IoH is making. A few years ago, he brought their three children to a Legacy Retreat in Orlando while Jennifer was working. "We saw the names and faces behind the stories and were conscious of how fortunate we felt to easily enjoy our vacation time without a resource like IoH. I am so glad these impacted families could experience the fun of the parks with the help of the IoH program and volunteers."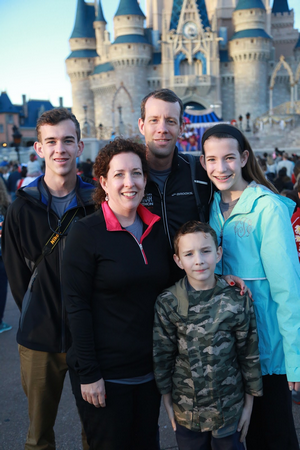 JT and his family at a Orlando Legacy Retreat in 2016.
Over the retreat weekend, the Thomas family participated in group gatherings and fully experienced the compassion that is extended to all retreat participants. JT remembers, "We have been fortunate a few times in our life to be a part of a community like this, where we feel such sharing and belonging. At IoH, the emotional level of commitment really shines through with the leadership, volunteers, and trust of the families. I think that is what helps lift the burden these families are carrying."
This commitment to relationships is partially why supporting IoH is a natural choice for JT. The wealth management advisor appreciates the trust and respect of many supporters who readily contributed to his fundraising efforts. In announcing his plans to run the Big Sur marathon for IoH, JT sent out an email to personal and professional contacts, and was thrilled with how quickly, broadly, and generously so many friends responded. The final tally of money raised was nearly $13,000 — compared to running the race, he says this was the easy part!
The Big Sur Marathon was JT's 27th marathon!
Big Sur is considered to be among the harder marathons in the US to accomplish, due to both logistics and the rolling course. JT describes it as a "robust challenge," and noted that the constant hills and significant headwind over half the course made it more difficult than anticipated. Nevertheless, his finishing time was a strong 3:24:49.
Beautiful views from Big Sur.
When asked "what's next?" the avid runner, who has qualified for his fourth Boston marathon in April 2019, but is weighing family plans, replies that he has "no short-range targets." As much as he loves the high of competing through the race, JT also enjoys the fellowship of running with friends or the peacefulness of an early-morning run. For now, he is happy to spend the summer with his family, which includes a son who will be heading off to college this fall. No matter where his plans take him, one thing is certain–the Thomas family will be involved in IoH for the long-term. "To have a view into the the struggle that is life-threatening illness for many parents, and to see how IoH can help is very touching. As a person of faith, I do not understand why such profound health trials are allowed to befall young families, but if there is anything we can do to alleviate these burdens, we feel called upon to do our part."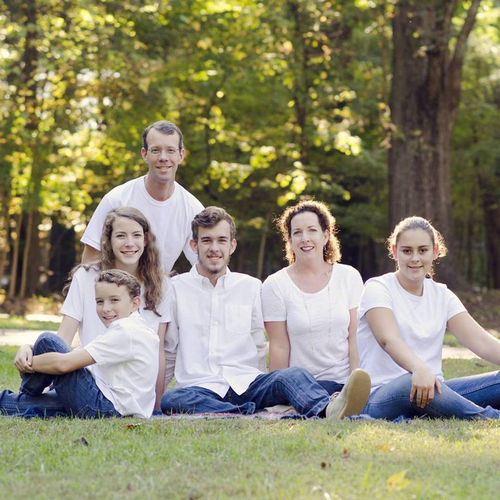 The Thomas Family with their foreign exchange student (right; photo credit: Marci Bruno).
Angie Howell graduated from Davidson College, where she met Inheritance of Hope Co-Founder Kristen Grady Milligan the first week of their freshman year. In 2010, the two former hallmates got back in touch, and Angie became involved in IoH shortly afterwards. Angie has served as a Legacy Retreat volunteer, Coordinator, and now, as Communications Manager, Angie helps tell the stories of IoH. She is constantly inspired by the people she meets in the IoH family. Read more Inheritance of Hope blogposts >>