Shannon Fogarty holds the distinction of being one of our most successful fundraisers who is also a past retreat participant.  To date, this family member served-turned Inheritance of Hope super fundraiser has sent six families on a life-changing Legacy RetreatⓇ.  Just a year after he was diagnosed with a malignant, inoperable brain tumor, Shannon attended the August 2011 Orlando retreat with his wife Alicia and daughter Alexa.
An initially reluctant retreat-goer, Shanon now champions IoH every chance he gets.  To this day, he credits the Legacy RetreatⓇ with allowing him to open up and accept support, which changed how he approached living with a terminal illness.  Grateful for the people he has met through IoH, he hopes others can benefit from this extended family as well, "What has stuck the most is the friendships I made, but also the friendships we all have lost.  Through those people and that camaraderie, I gained the ability to discuss what I am dealing with and have more confidence."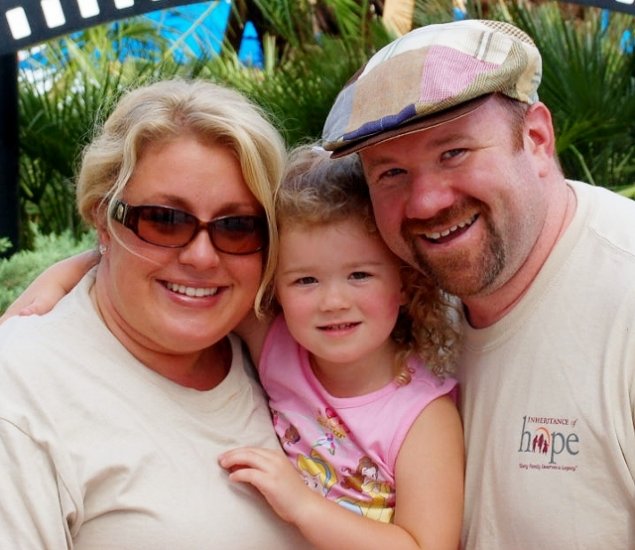 Shannon, Alicia, and Alexa on their Orlando Legacy Retreat in 2011
In 2015, we featured a blog post on Shannon, as he geared up for his first race in support of IoH.  Since then, he has raised over $32,000 for families like his own. He wasn't always a cyclist, or a fundraiser, but Shannon will be the first to tell you that cancer has led him to unexpected places–like an IoH retreat and onto a bike that once gathered dust in his garage.  
Once seizures affected his driving, Shannon began biking to the train station for his daily commute into New York City, and eventually became hooked on cycling.  His friend Paul Alizio, an avid cyclist, talked Shannon into racing the Gran Fondo New York, a 100-mile course with a grueling cumulative elevation gain of 7,636 feet.  It was while contemplating this event that Shannon became a fundraiser, "I was walking across the Pulaski bridge, thinking about this massive undertaking, and I decided if I was going to do this, I was going to do it for a reason.  So I called up Deric (Deric Milligan, CEO of IoH) and asked him if I could fundraise. He was pretty excited."
Excited indeed.  Shannon remembers that once the money started rolling in, Deric called and said, "Dude, where are you getting all these friends?"  Shannon and Paul completed the Gran Fondo together in 2015, 2016, and 2017, and each year, Shannon raised funds and awareness for IoH.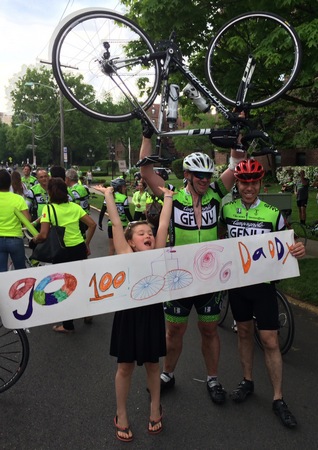 Alexa celebrates her dad's completion of the Gran Fondo New York
Currently, Shannon and his family are doing well in spite of difficulties that arise due to his illness.  They have moved to a smaller town where many amenities are within walking distance, and Shannon has retired from his career in the TV industry.  Alicia works from home, and commutes into Boston when needed for her job at T1D Exchange, where she is VP of patient-centered research. Alexa is a thriving fifth grader whose favorite school subject is social studies, and she stays busy with dance and piano lessons.
In addition to his fundraising work, Shannon is one of many past family members who has helped us think of more ways we can stay connected and have an impact post-retreat.  He emphasizes the importance of communication, "IoH allows us all to not feel closed off to the world, and gives us the ability to say 'I'm having a bad day.' I also love how IoH has grown but is still personal.  I can call up anyone there at anytime to talk."
If you are interested in helping with our family-to-family initiatives like Shannon, please contact Angie Howell, angie@inheritanceofhope.org
Angie Howell is constantly inspired by the people she meets in the Inheritance of Hope family.  Her connection to IoH goes back to Davidson College, where she met Kristen Grady Milligan the first week of their freshman year. Kristen eventually started Inheritance of Hope with her husband Deric, and Angie heard about their work at a college reunion.  In 2010, the two former hallmates got back in touch, and Angie became involved in IoH shortly afterwards. She has served as a Legacy Retreat volunteer, Coordinator, and now, as Communications Manager, Angie helps tell the stories of IoH. Read more Inheritance of Hope blogposts >>