Jake Anderson can't describe his wife Becky without mentioning her smile, "You don't have to say anything else–you could just see her smile."  That smile was a window into how Becky lived with her metastatic breast cancer diagnosis amidst raising three young children.  
According to Jake, Becky was always hopeful, and while he can't pinpoint exactly how she maintained her hope and faith, he does have a name for it, "I think if you knew her, well, there was a grace about her.  She would put everyone else at ease," he says. "It felt like everything was ok because she was ok. She made it easy for everybody and always looked on the bright side–right from the beginning. I think the word for her is grace," he pauses, "and then, there was the smile."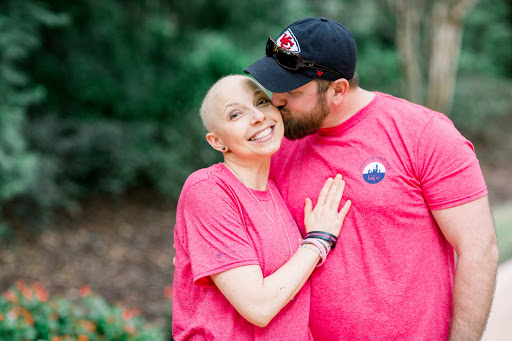 Becky's bright smile showed her love for life
Becky passed away in February 2019, and what keeps Jake going now is seeing her in their children's eyes, personalities, and of course, in their smiles.  He also is committed to keeping her memory alive in a big way through charitable giving that helps other families facing what his family faced. For starters, he and friend Jeff Hatlevig raised nearly $3,000 through a tailgate before the Iowa vs. Iowa State football game–enough to fund three children, like Jake's own, on an Inheritance of Hope Legacy RetreatⓇ.  Fans from both teams came out to celebrate the game and support the cause, and to make it even better, Jake's Hawkeyes pulled out a hard-won victory.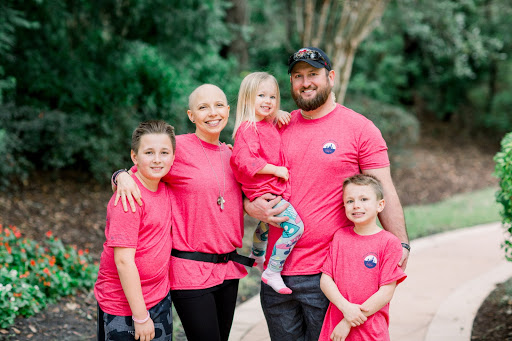 The Andersons on their IoH Legacy RetreatⓇ
This first fundraiser, of which Jake hopes there are many, seems a fitting tribute to the girl who tapped him on the shoulder one day in a high school hallway and asked if he wanted to go to Homecoming.  His voice still conveys excitement as he recalls, "I was like, 'Yeah!' I had known her since second grade, and that was our junior year." The couple went to different colleges, and while Jake played fullback and middle linebacker at Minnesota West, he doesn't mind admitting, "Ultimately, I was too busy chasing Becky around to play much football."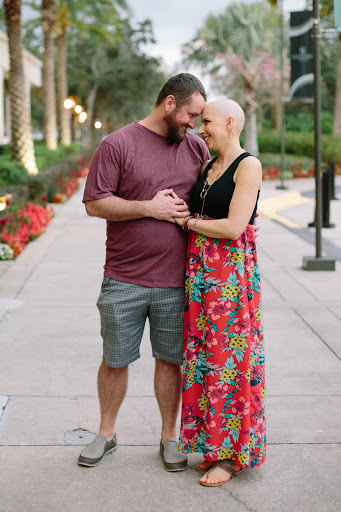 The former high school sweethearts shared a lifelong love
Their love story was cut drastically short.  In December of 2018, Becky finished chemo and was accepted into a clinical trial. After genetic testing, the couple had high hopes that a new drug would target the exact cells that made up 80% of her particular cancer.  They thought they had time–months, maybe years. 
Before the trial was to start, Becky found IoH, and the family of five applied for the 2019 Kendra Scott-sponsored Inheritance of Hope Legacy RetreatⓇ to Orlando for families affected by metastatic breast cancer.  No one could have known, that in a way, introducing him to IoH would be Becky's last gift to Jake.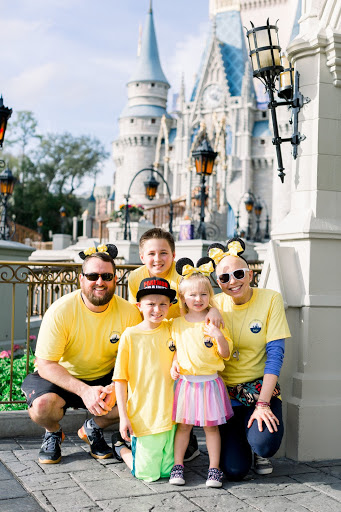 The Andersons made many happy memories in the time they had together
"To be honest," Jake remembers, "Becky said we had the chance to go on this trip, and that was all I got. Then I got the itinerary. My first reaction was, 'Two hours of what now? Counseling every day? That sounds like a whole lot of feelings.'  You know, that can be intimidating for any guy." Jake was surprised that once they got there, he found himself opening up in group sessions and grateful for the chance to connect with other caregivers.  
"It's hard for any man to let go. And as a caregiver, you feel such guilt," he explains. "I didn't want to speak about my problems or issues, because I was trying to help my wife. But it was great the way IoH set it up. It was a safe place we could all talk and ask other people how they did this or that.  You can just spitball off each other. So, when Becky passed away, I felt ok reaching out to others."  
Shockingly,  Becky passed away only two weeks after they returned from Orlando.  While getting ready for their trip, fluid build-up was causing her a good deal of pain. But, she had suffered from similar problems twice before, and recovered.  She did not hesitate when asked if she still wanted to travel, and Jake knows that seeing their three kids so happy was her favorite part. 
The retreat was just as meaningful for the Anderson children Max, Kael, and Nina, ages ten, seven, and three at the time.  Prior to the retreat, Jake wondered how they would do, but he claims the kids "went right to it" in their own sessions, recognizing immediately that they had a new, understanding community.  Favorite family memories of their trip included a harrowing ride down Space Mountain and a quiet moment enjoying Dippin' Dots in the Florida sunshine.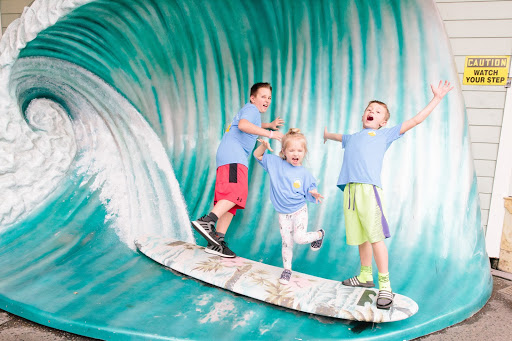 No sibling rivalry here! 
What stood out even more were the tools they took back home with them to Iowa.  All three know how to keep lines of communication open and express their feelings–skills Jake attributes directly to what they learned on their retreat.  "This stuff is so difficult," he shares, "but IoH broke the ground for all of us, and I can talk about things that I had a hard time talking about before."
Jake plans to volunteer with the kids as soon as they are old enough, but until then, he wants to raise money every year in honor of Becky's memory and provide the same retreat experience–one that he describes as a "tidal wave of love"– for other families, "IoH was so important to us, and I want something to be positively attached to Becky's name. IoH touched me in such a way that I want so desperately to try to find people to help."
He also wants other families to realize the unique gift that an IoH Legacy RetreatⓇ provides, and would tell new families, "Let go and don't be afraid to open up. Enjoy the ride. It is a once in a lifetime experience. You can buy things, but experiences are where it's at.  That's especially true for how it played out for us–this was our last trip. You've got to take every day you get."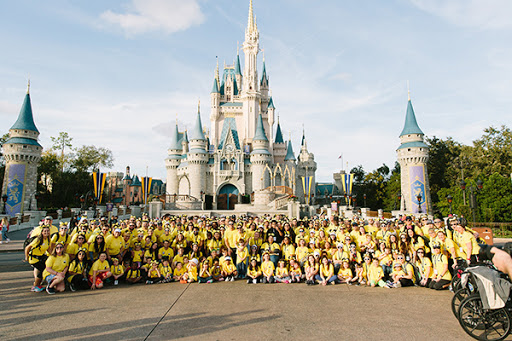 Inheritance of Hope Legacy Retreat® presented by Kendra Scott
Angie Howell is constantly inspired by the people she meets in the Inheritance of Hope family.  Her connection to IoH goes back to Davidson College, where she met Kristen Grady Milligan the first week of their freshman year. Kristen eventually started Inheritance of Hope with her husband Deric, and Angie heard about their work at a college reunion.  In 2010, the two former hallmates got back in touch, and Angie became involved in IoH shortly afterwards. She has served as a Legacy Retreat volunteer, Coordinator, and now, as Communications Manager, Angie helps tell the stories of IoH. Read more Inheritance of Hope blogposts >>