Originally posted in September 2019. Andrea now serves as an IoH volunteer at Hope Hub™ – D.C. and on Legacy Retreats®. Her heart to give back to other families is an inspiration.
As a young widow raising five children, Andrea Albanese wants her late husband Jim to be remembered and acknowledged. "Culturally, we are afraid of grief and afraid to say the name of the person who passed away," she laments. "People might drop off a casserole and run. But, I would say to please talk about my husband with my kids. They want to hear about their father. He is still part of our lives."
And that is exactly why a special gift created just for Andrea made such an impression on her last October.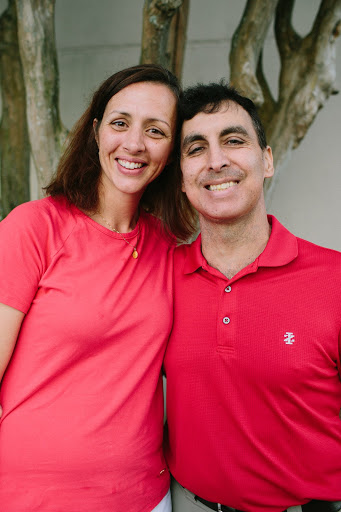 Andrea and Jim shortly before he passed away
Each year on October 13th, Kendra Scott. hosts Holley Day, a fundraiser highlighting in-store events and promotions that benefit Inheritance of Hope (IoH). IoH serves families facing the loss of a parent due to terminal illness. Kendra's dear friend Holley Kitchen was a recipient of an IoH Legacy Retreat®, and with her husband and small sons, attended the life-changing, memory-making, legacy-forming trip just months before she passed away.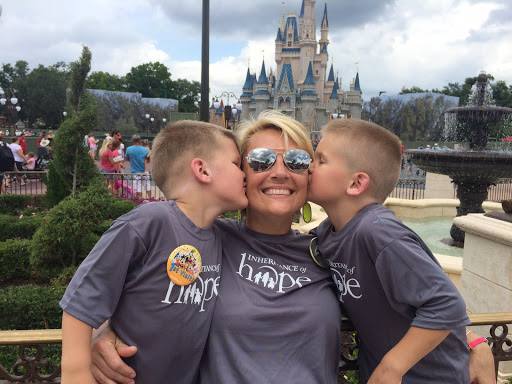 Holley Kitchen made precious memories with her children on their IoH Legacy Retreat®
After losing Holley to metastatic breast cancer, Kendra made a personal commitment to honor her friend's legacy by impacting more families like the Kitchens. As part of that promise, Kendra Scott has sponsored several Inheritance of Hope Legacy Retreats® with additional plans to continue the partnership.
Mother-daughter duo Kathy and Jackie Seaman were trying on necklaces at the Kendra Scott store in Fairfax, Virginia, on Holley Day 2018 when they realized a very meaningful connection to IoH. In-store IoH volunteer Teresa Bosch explained why she was there, but the Seamans already knew what IoH was all about.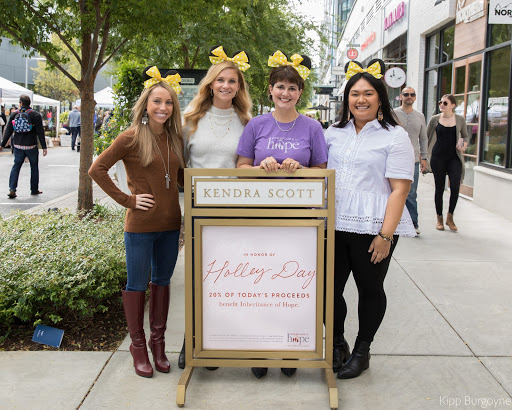 Teresa Bosch and her mouse ears blend in with Kendra Scott employees on Holley Day
Jackie babysat for the Albanese family throughout Jim's illness with multiple myeloma and remembered well the excitement when Andrea, Jim, and their children–Christopher, Jacob, Gianna, Evie, and Lucy–went to Orlando through an all-expenses-paid Legacy Retreat® in May 2017. Jackie told Teresa how much the Albanese family had loved their retreat, and that the happy memories they shared in Orlando became even more precious when Jim passed away later in the summer. Talking further, they discovered that Teresa had also met Andrea through her volunteer work with IoH.
The Albanese Family on their IoH Legacy Retreat®
An idea was hatched and a surprise put into motion. Saying nothing more, Jackie called Andrea and asked when Jim's birthday was. Along with Kendra Scott staff, Teresea, Kathy, and Jackie made a special necklace for Andrea honoring Jim with his birthstone.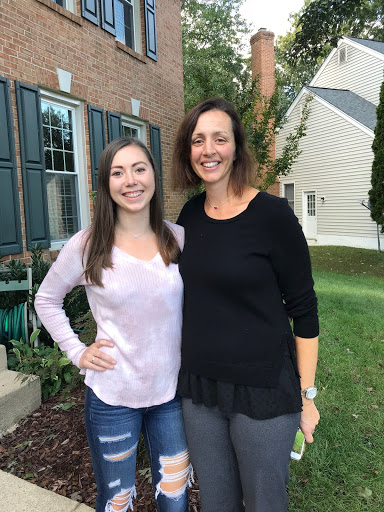 Andrea models her new necklace with Jackie
Andrea says, "I thought it was the sweetest thing ever, and love the sentimentality of this."
Since then, Andrea has become a devoted Kendra Scott customer, and the store is now her go-to source for gifts, "I love their pay-it-forward mentaltality," she explains. When making an important purchase for a recent high school graduate who lost her mom after a five-year battle with appendix cancer, Andrea had no trouble deciding on a special present–a timeless Kendra Scott necklace.
Angie Howell is constantly inspired by the people she meets in the Inheritance of Hope family. Her connection to IoH goes back to Davidson College, where she met Kristen Grady Milligan the first week of their freshman year. Kristen eventually started Inheritance of Hope with her husband Deric, and Angie heard about their work at a college reunion. In 2010, the two former hallmates got back in touch, and Angie became involved in IoH shortly afterwards. She has served as a Legacy Retreat® volunteer, Coordinator, and now, as a Content Contributor, Angie helps tell the stories of IoH. Read more Inheritance of Hope blogposts >>