It's a friendship from the era of floppy discs and homemade scrapbooks.  Chris Douglas and Greg Loerzel met in the computer lab of North Dakota State University as aspiring engineers, and Greg's wife Maria has proof of the many adventures they have had ever since.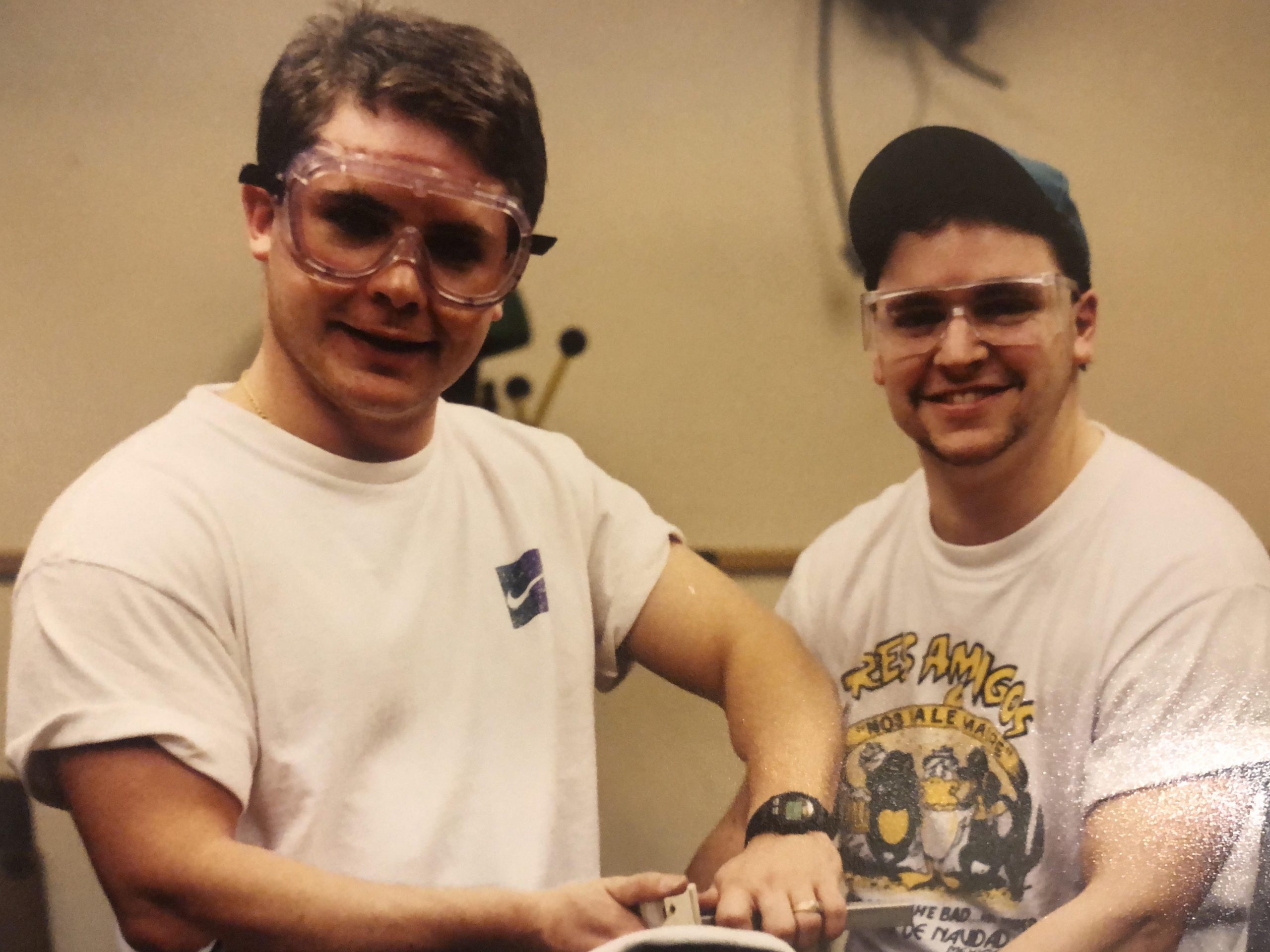 Chris (left) and Greg have been friends for over two decades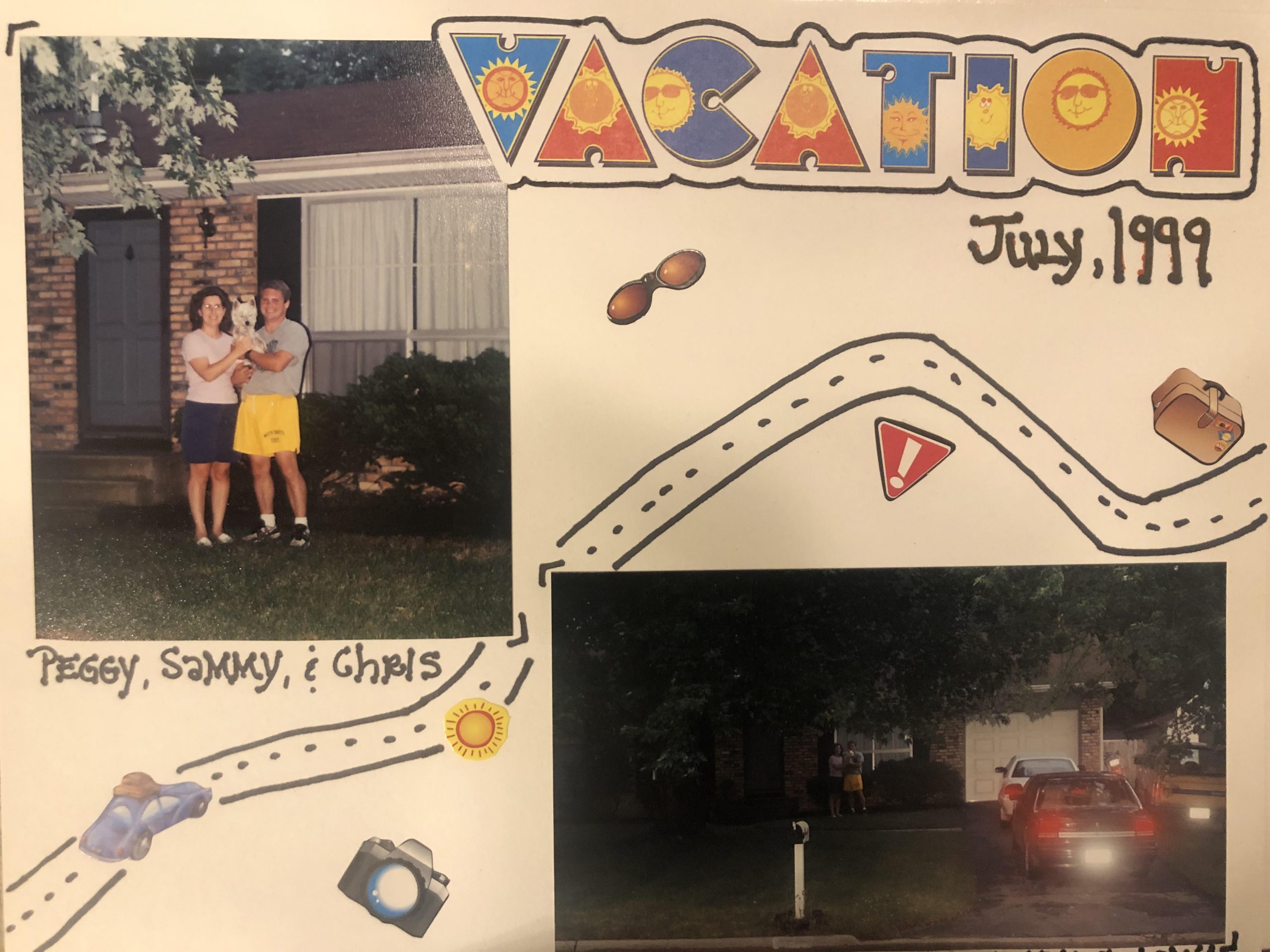 Scrapbook mementos from a long-ago summer road trip
The foursome, which includes Chris's wife Peggy, has traveled all sorts of roads together over the past 23 years.  One they never would have predicted back in the days of honor societies and nights spent shooting darts together was on December 8, 2019, when Maria pushed Chris to the finish line of the Humana Rock 'n' Roll San Antonio Marathon.  "Pushed" in the most literal sense, but Maria says it went both ways, "Having Chris in front of me was the inspiration I needed."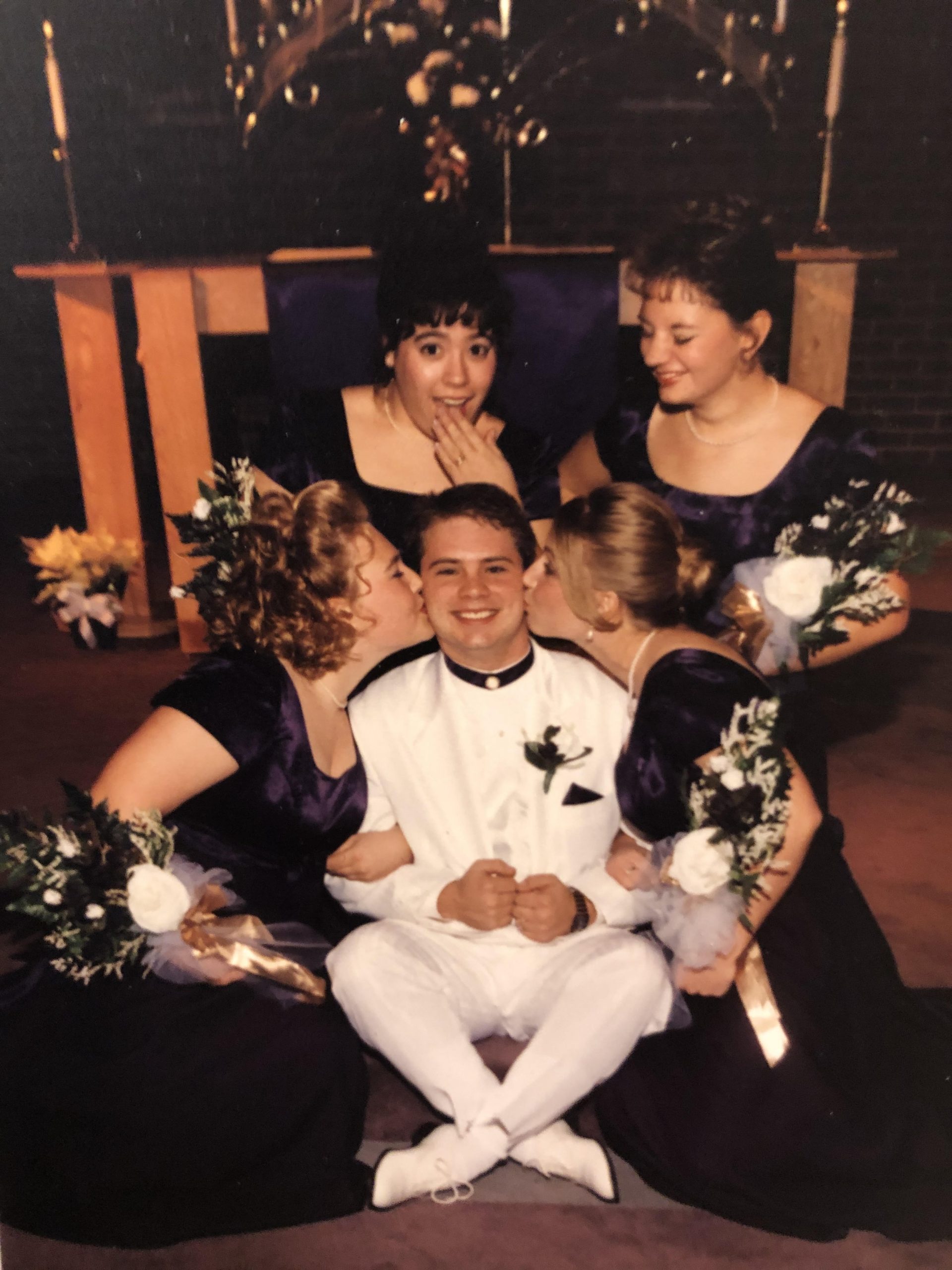 Maria (top left) and Greg were both in Chris (center) and Peggy's 1997 wedding…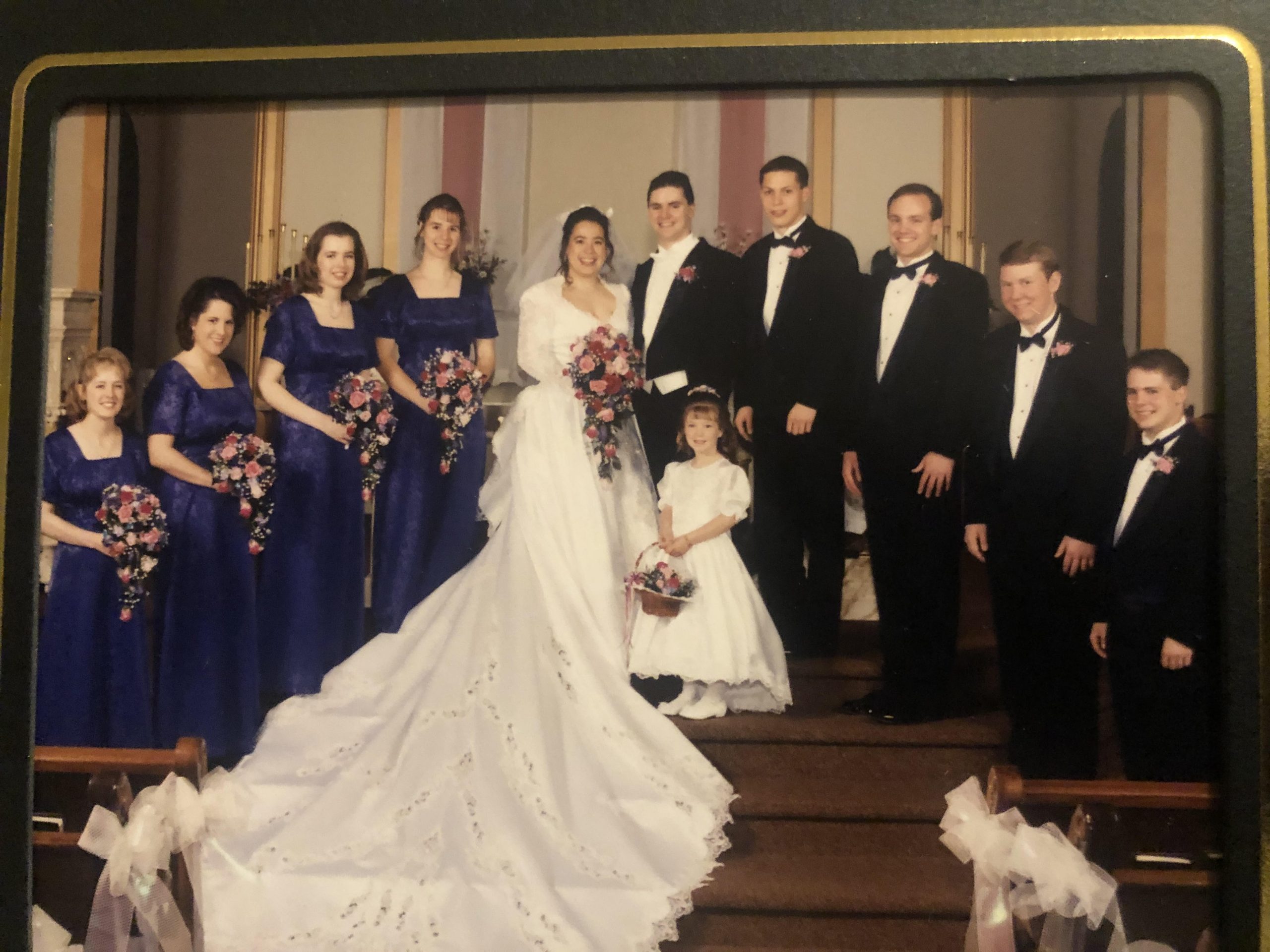 and Peggy and Chris returned the favor for Maria and Greg…
Chris has been living with ALS for the past five years, and although his body has deteriorated, he is still a full-time engineer, and thanks to friends like Maria, can participate in athletic events. This was his second marathon, and Maria's first.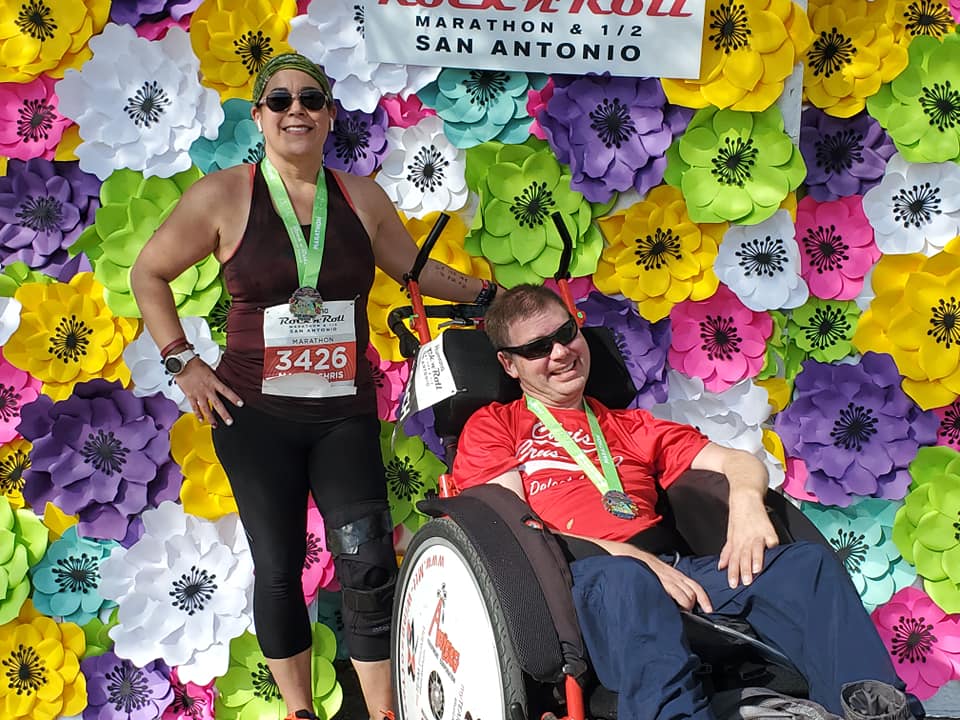 Maria and Chris–all smiles after pushing through 26.2 miles of ups and downs
Maria initially floated the idea that they should complete one together, and at the time, both of their spouses ignored the time-consuming, physically demanding scheme.  However, it wasn't long before each couple was fully on board, and with a greater purpose–to raise money for the ALS Association and Inheritance of Hope (IoH), two organizations that have been instrumental in supporting the Douglases throughout Chris's illness.  
In May 2017, Chris, Peggy, and their four children–Isaiah, Micah, Luke, and Elli–attended an Inheritance of Hope Legacy RetreatⓇ for families facing the loss of a parent due to terminal illness.  This nonprofit has stayed an important part of their lives because of the support and strategies it provided for the entire family; the emphasis on connecting with others facing similar struggles; and the gift of enjoying carefree time together.  IoH made such an impact on the Douglases that both Peggy and Isaiah have in turn volunteered themselves.  As Chris explains, "IoH emphasizes the importance of and how to leave a legacy that will help in grieving. The retreat was a great time to get away from the hustle and bustle of everyday life, focus on creating memories, and the chance to create a plan to leave a legacy!"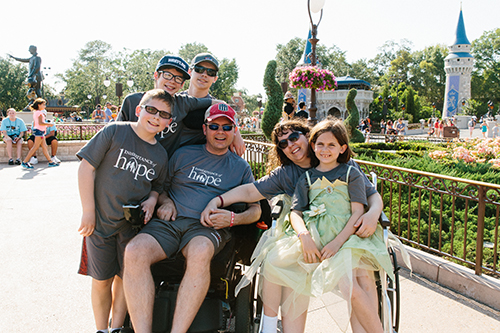 The Douglas family on their 2017 IoH Legacy Retreat®
To date, Maria and Chris have raised $4,866 for IoH, and Maria plans to donate in conjunction with future races as well.  Compared to the actual training and racing, fundraising may have been the easier part of their journey.  When Maria claims she is not a natural runner, she isn't just being modest.  For twenty years, the Minnesota-based physician and mom of three put fitness on the backburner, until she donned a tutu with Greg for a Polar Plunge event he was sponsoring.  The next thing she knew, she had signed up for a 5K scheduled for a few months later.  
"The first time I ran," Maria remembers, "I could only do a quarter mile before I had to stop, and this made me really mad!"  The 5K she was training for?  It wasn't much easier, but the atmosphere and excitement of race day had her hooked.  To natural runners, it might not make sense when Maria explains that she couldn't breathe while running, but that was the frustrating truth.  For a full year, she worked with a coach and counted breaths so that each inhalation and exhalation matched her stride. At first she called it "wogging"–a term Maria made up to describe her own style of jog-walking.  After a while, the jogging turned to running and overtook the walking, and she eventually crewed alongside Chris as a support runner for a portion of his first marathon. She had caught the bug, knew that her next goal was the big one, and decided, "If I was going to do this, I was going to do it for something more." 
Finding a race wasn't easy, and timing was essential.  Although Maria had begun upping her distance in the January Minnesota weather, by the fall of 2019, she had progressed to pushing a weighted jogging stroller in preparation for propelling a 130-lb man through 26.2 miles.  She knew that continuing to train through another winter would prove impossible–while she could push up hills, down hills, and into wind, snow was another matter.  She also needed a relatively flat course that accepted wheelchair racers, and in a location that was warm but not hot.  Chris now has painful spasms in the cold, and Maria suffers from Postural Orthostatic Tachycardia Syndrome, which makes exercising in heat and humidity especially challenging.  And, of course, they needed a fun location like San Antonio, because this trip was about more than just the race.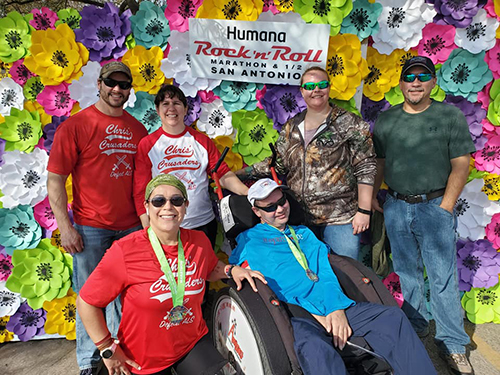 Maria and Chris (front) celebrate with Greg, Peggy, and Maria's brother and sister-in-law, who are also friends of Peggy and Chris and surprised the foursome at the race
It was about memories.  Like the one when they added a little something to Chris's feeding tube because the rest of the table was served a special pre-race whiskey pickle shot. They also took a side trip to Waco, visiting Magnolia Market for Peggy, who is a huge fan of the HGTV show Fixer-Upper.  Another special highlight from the weekend was when the fundraiser topped $10,000 in combined gifts for their two charities, and they all celebrated together.  Maria explains that the almost yearlong process, from training to the finish line, gave her more than bragging rights, "I learned about myself. The marathon was just the icing on the cake."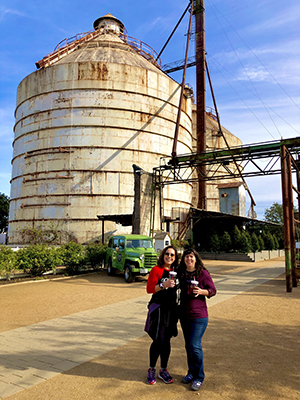 A little shopping meant that Maria and Peggy enjoyed more than just race day!
One thing she learned was how to "be comfortable being uncomfortable."  It is not lost on Maria that Chris and Peggy's life could be described as such.  "There were times when I wanted to stop, throw the weights out of the stroller and quit.  I was tired, cold, and hadn't gotten enough sleep. Then I would remember how much Chris would give to walk. This is a gift."  
With no training manual for life with ALS, Chris and Peggy could never train for the difficulties they face, but Maria tried her best to do just that for this race.  She committed to taking the harder path on each of her runs, "I knew to be successful in pushing Chris, I had to get out of my comfort zone. I wanted to leave nothing questioned, I wanted to put my heart in it and leave everything on that race. I wanted it to be the best race for Chris."  To prepare, she would choose, for example, to run the last ten miles of a 20-mile loop into a 20-mile-per-hour headwind instead of reversing course and benefitting from the tailwind at the end.  This almost backfired, but the resulting low taught her a valuable lesson.  On a blustery late fall day, with her car parked ten miles away, her weighted stroller became a sail that pushed her backward and made each step a painful, slow, hard-won inch of progress.  With five miles left to go, she stopped, cried, and called a running buddy, who like any good friend listened.  By the time she made it back to the car (on her own slow accord), she realized she had hit the proverbial wall but had worked through it.  
For his part, Chris never doubted Maria.  On race day-eve, he used his Tobii eye tracker to write  out the following message,   "I am totally ready for tomorrow Maria! I am proud of how hard you have trained and am so humbled to be your bad-ass partner.  I am not quite sure how I or you will do on the course, but if the past 23 years has shown, I am confident we will be successful, because two stubborn, goal-oriented people like us find joy in the Journey of getting to a pretty lofty goal.  I hope you find good rest tonight."
The next morning brought a few surprises, but Maria had trained and Chris was resolute.  Due to road construction, the flat course was drastically altered to include several hills, and as the national anthem was being sung, Chris was unable to communicate a problem with the racing wheelchair.  Nevertheless, the team pressed on.  And their beaming smiles at the finish line show their success–not just in the 26.2 miles they traveled, or the money they raised, but in all the ways they increased awareness and inspired hope.
Finishers!
"We used the hashtag 'This is living with ALS,'" Maria says.  Recognizing that Peggy's role as a caregiver who will go anywhere and do anything is crucial, she adds,  "You can still live, have fulfilling memories, have goals, and do amazing things.  You just have to put forth the effort."  This foursome is all about putting forth the effort.  Maria and Greg know that the most important thing they can do right now for Chris and Peggy is to show up, "Even when you don't know what to say," Maria emphasizes, "still be present. Sometimes we don't have the words and need to be comfortable in silence too."
But, this foursome has few silent moments.  "Chris has such a sense of humor that on this trip we belly-laughed every day," recalls Maria.  Just like in college.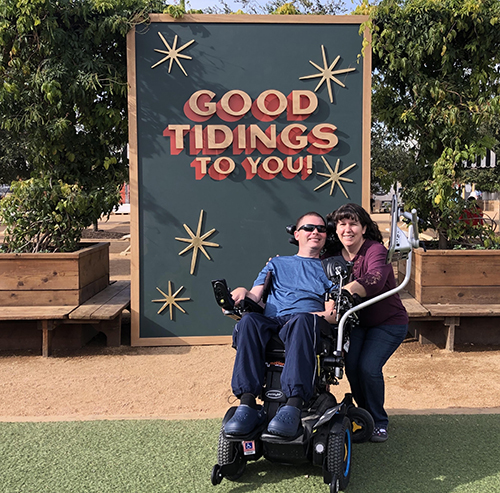 No matter the circumstances, Chris and Peggy focus on what they CAN do. Read their recent blog post on
what can be done with ALS
Angie Howell is constantly inspired by the people she meets in the Inheritance of Hope family.  Her connection to IoH goes back to Davidson College, where she met Kristen Grady Milligan the first week of their freshman year. Kristen eventually started Inheritance of Hope with her husband Deric, and Angie heard about their work at a college reunion.  In 2010, the two former hallmates got back in touch, and Angie became involved in IoH shortly afterwards. She has served as a Legacy Retreat volunteer, Coordinator, and now, as Communications Manager, Angie helps tell the stories of IoH.  Read more Inheritance of Hope blogposts >>